Fenati: Rossi is the best teacher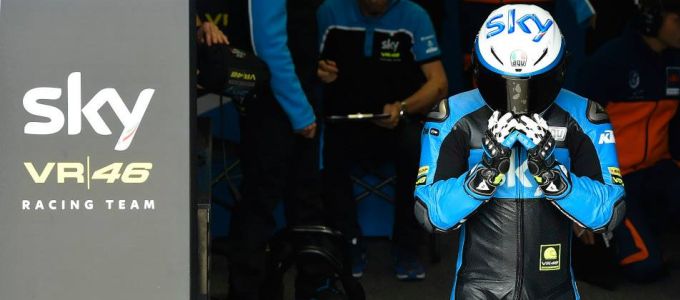 Moto3 star Romano Fenati has claimed that his team manager and mentor Valentino Rossi is the best teacher for him, as he prepares for his final season in Moto3 ahead of his planned move into Moto2 in 2017.
Fenati remains one of the great mysteries in Moto3, the 19 year-old is about to compete in his fifth season in 125cc/Moto3, and he continues to flatter to deceive. After an astonishing debut two races which saw him finish second and then win his second ever race, in the next 68 starts only adding five more wins to his tally.
He has remained a very fast rider, with plenty of potential, prompting Valentino Rossi to continue to heavily back him, which is something he is extremely grateful about.
"He is the best teacher," the Italian said about Rossi, in an interview with GPone.
"He has a very good influence on me, he not only inspires me, but also tells me how I can improve myself. I get plenty of advice."
2016 will be Fenati's final season in the junior class, after confirming his intentions last season. Fenati and his VR46 Sky team confirmed that he would be part of a three rider effort in Moto3, before both Fenati and the team moving into Moto2 together the following season. 
"In my opinion, it wasn't the right time to move up to the Moto2 class, I didn't like the idea," he said. "In the Moto3 class I'm always close and fighting for the title, why shouldn't I try one last time? 
"I still have a job to do."
With his 2017 plans already laid out, Fenati beleives that it will allow him to relax and race freely, knowing that he has a ride in Moto2 already in the bag, rather than fretting about his future.
"It gives me more security, because your head, albeit unintentionally, you're always thinking about next year. Instead, I'm in a safe place; I don't need to worry and I won't be exposed being slower." 
Jack Miller's move from Moto3 to MotoGP directly for the 2015 season could possibly a trend begin, with teams in MotoGP not afraid to take a risk and recruit directly from the smallest class, rather than looking exclusively in Moto2.
With that in mind, did it ever occur to Fenati to jump directly to MotoGP?
"Of course I would love to go to MotoGP immediately, but this is currently not yet feasible," he said. "I'm only concentrating on Moto3, and then Moto2. After that, we'll see what happens."
Photos via Romano Fenati Facebook