Fenati: I feel like an older brother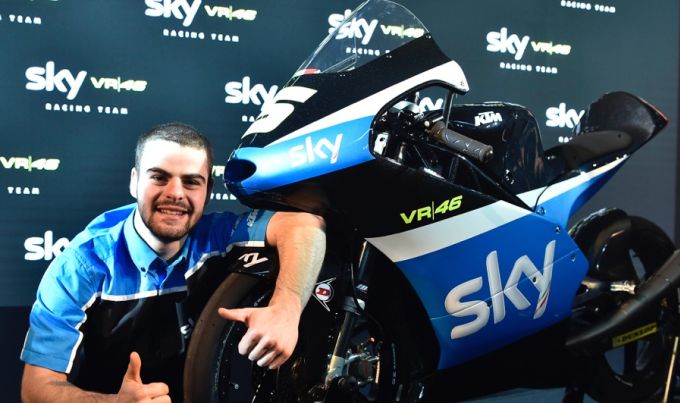 The Sky Racing Team VR46 have officially unveiled their 2016 machines in Italy for the upcoming Moto3 World Championship.
Valentino Rossi's Moto3 team will include three riders this season with 2015 CEV Moto3 Champion Nico Bulega joining the existing 2015 line-up of Romano Fenati and Andrea Migno. Along with a similar line-up for 2016, it will also be the third season in which the Sky VR46 team run the KTM.
2016 will be Romano Fenati's fifth and final season in Moto3 with the Italian already agreeing to move into Moto2 along with the Sky VR46 in 2017. Fenati has had six wins and a further seven podiums through his first four seasons, but he now feels that his "time has come".
"The title would represent a moral victory. The time has come. I'm ready. It will be a competitive Championship," he said. 
With two younger team mates, Fenati has admitted he feels the older statesman in the team, but that added responsibility hasn't stopped him having fun.  
"The Sky Racing Team VR46 is a second family: the atmosphere is friendly and there is a space for confidences. We race, we work hard, but we have also time for laughing. I feel like the older brother. This year there is a bigger responsibility: will be important to take care about Nicolo. Andrea will also do it while he continues his growth."
Migno had an eventful 2015 season which ultimately saw him end the season nineteenth overall. Ready to build on from 2015, Migno says he takes inspiration from his team owner.
"Valentino teaches: never give up. After a disappointing result, you have to remain focused and move forward," said the 20-year-old, who achieved two top ten finishes in 2015.
"I'm confident I think will be a good year. I already know all the tracks and this will give me an extra hand, an advantage. I have to push always at 100%, from the first round on Friday until the end of race on Sunday."
Team rookie Nico Bulega arrives in the team with pedigree after taking a dramatic win in the final round of the Moto3 CEV Repsol series in Valencia, which took place just one week after he claimed a twelfth place finish as he made his Grand Prix wildcard with the Sky VR46 team, at the same circuit.
"Being in the World Championship is part of a dream come true. In the future I would like to become a competitive rider in MotoGP," he said.
"For this season the first goal is finish closer to the Top15. I have to find the right feeling with the bike and make experience. The hardest part? The new tracks. There are many circuits where I have never raced and I have to quickly adapt my style."
Photos via Sky Racing Team VR46