Romano Fenati: The Spaniards played dirty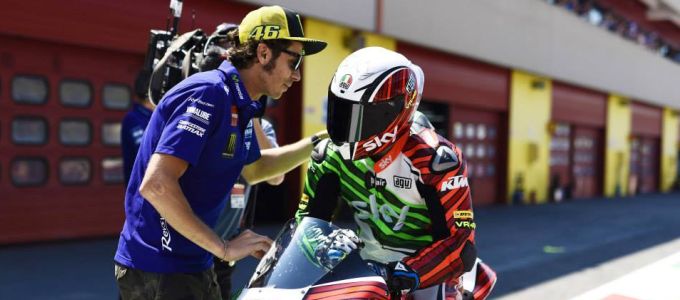 Romano Fenati has come out in support of his mentor and Team Manager, Valentino Rossi, by claiming that "the Spaniards played dirty."
Fenati was of course talking about the controversy that marred the tail end of the MotoGP season, in which Jorge Lorenzo pipped Valentino Rossi to the MotoGP World Championship. Many, including Rossi himself, believe that Lorenzo and compatriot Marc Marquez conspired to work together in order to stop the Italian claiming his tenth World Championship in motorcycle racing.
Rossi still has a current open case with the Court of Arbitration for Sport over the penalty given to him for his part in the incident in Sepang, although he's tried to put the incident behind him, winning last weekend's Monza Rally. It was last weekend, whilst making his four-wheeled debut, that Fenati questioned the way in which the Spaniard conducted themselves over the final weeks of the season.
"If I had followed from home, on television, I would have liked to see a scenario with three riders. Two Spaniards and an Italian," the 19-year-old told Diario Del Web. "The Spaniard's fight with the Italian, but in the end it is he who wins." 
Despite the fact that Rossi ultimately lost out on 2015 MotoGP World Championship, Fenati said that he thinks it's only enhanced his reputation, having to fight with the two Spaniards.
"The Spaniards played dirty," he said. "But I think that adds to Valentino. It has given Spain a bad reputation." 
The MotoGP paddock is now away on it's winter break, allowing everyone from riders to fans the chance to calm down and move on from what has become an unsavoury event. As a potential future MotoGP rider, Fenati hopes that the sport can move on from the end of 2015. 
"This is a sport that's getting stronger. I hope we can overcome this and the end of the World Championship was an isolated incident." 
Photos via Romano Fenati Facebook