Stoner rules out full time MotoGP comeback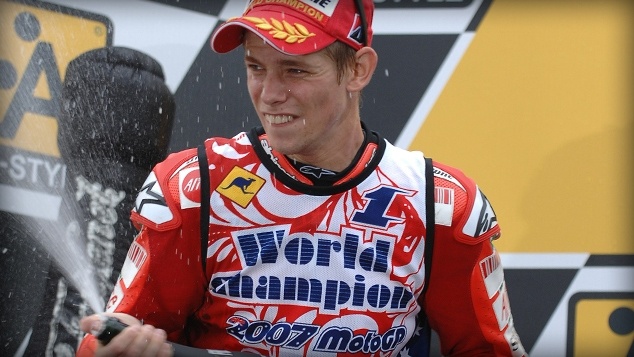 New Ducati test rider Casey Stoner, has insisted that he has no desire to make a full-time return to MotoGP, whilst admitting there are currently no plans in place to make any wild-card performances this season.
Stoner is returning to Ducati after a five-year spell with Honda which saw him win his second MotoGP World Championship before retiring a season later. The Australian shocked the MotoGP world when he announced that he would be returning to Ducati in a testing capacity from 2016.  
The 30-year old will officially participate in selected tests – including making his second debut at the end of the month in Sepang, prior to the first official pre-season test of 2016. 
"It's not going to happen," said Stoner, in an interview with Motosprint.
"I say it with certainty: I won't return to race regularly. When you decide to go racing at that level, you must always push at the limit and therefore risk everything all the time. Once you manage to get out of the bubble that surrounds MotoGP, you realise how much importance people give to that small world of racing. 
"But for me there are things more important. For me the life I have now, with my family, counts more."
Stoner also said there are no plans for a wildcard appearances. Ever since his announcement that he was returning to Ducati, rumours have been rife that he would be returning to the grid, with World Champion Jorge Lorenzo hinting he thinks he will be racing against he rival at some point during 2016.
Relations seemingly broke down between Honda and Stoner when he was refused the chance to stand in for Pedrosa last season in Austin and Argentina – two circuits he has yet to race yet.
Whilst admitting that there are no plans for any wildcards on the cards, he didn't totally rule out the prospect of lining up on the grid at some point this year. 
"There is no plan at the moment," said Stoner.
"I'm perfectly aware that if I wanted to race, Ducati would put everything at my disposal immediately, but for now we have only defined a test plan. Before going beyond that, I want to see how testing goes. At that point we'll decide."
Despite a lot of the spotlight being on him, Stoner insists that his, and Ducati's first priority is to end the five-year victory drought since he won his home Grand Prix at Phillip Island back in 2010. 
"I have a task that also becomes an objective," he said.
"I want to work well with [Ducati general manager] Gigi dall'Igna, so I want to help engineers and riders while we work on the new bike's development programme. My objective is to make a contribution to the cause, to make Ducati win races again."
Photos via Ducati Corse