Marquez: Pedrosa the most talented rider in MotoGP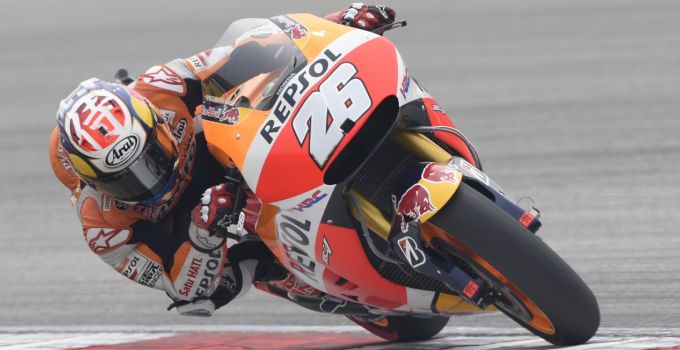 Former MotoGP World Champion Marc Marquez has said that his Repsol Honda team-mate is the most talented rider in MotoGP.
Pedrosa came into MotoGP back in 2006 with a reputation even larger than that of Marquez. On the back of dominant displays in the junior classes of Grand Prix racing. Despite ten seasons in the Factory Honda team, a combination of injuries and loss of form has meant that Pedrosa has never gone on to win a MotoGP title. 
Pedrosa and Marquez have at times suffered some tense moments during their three-years whilst sharing the Factory Honda garage. Without doubt the most heated moment in the garage came in Aragon 2013, whilst both battling for their maiden MotoGP World Championship's, Marquez tagged the rear of Pedrosa's bike, causing a sensor to break. As a result Pedrosa crashed out, leaving Marquez clear to win the World Championship.
Many questioned Honda's logic in keeping a rider who was apparently slower than his team-mate, however, Pedrosa's form in the second half of 2015 reminded people what he was capable of aboard his Honda RC213V. 
One of the biggest hinderances in Pedrosa's MotoGP career has been his size. Standing at just 5 foot 2 inches tall, Pedrosa is the smallest rider currently in MotoGP. Whilst his size gives him certain advantages, such as his lightning fast starts. Marquez believes that it has also been a major factor behind the amount of injures he has sustained throughout his ten year career.
"If we talk about pure talent, Dani is the best of us all," the 22-year-old told Speedweek.com.
"He's the smallest rider and he has to deal with the power of a MotoGP bike. Just for that, he deserves respect, and he's very good when the track goes from being dry to wet. His physique has sometimes hindered him. Accidents often lead to injuries that can make him more cautious."
Despite it not being obvious upon fight sight either, Marquez also admitted that his aggressive riding style is modelled upon that of his compatriot. 
"Dani showed me how to ride a MotoGP bike," he said. "You must be aggressive, take the corner and see what happens on the brakes.
"Instinctively, I would use a more rounded riding style, but Dani's style is faster."
Photos via Repsol Honda