Viñales distances himself from Honda rumours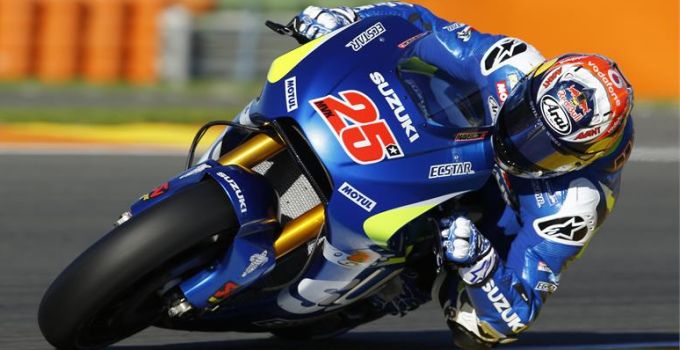 Despite being the target of an aggressive pursuit from Honda, Suzuki's Maverick Viñales says he is only focused on Suzuki. 
The 2015 MotoGP rookie of the year is the only factory MotoGP rider who has a contract for 2017 after signing a three-year deal with Suzuki upon their return last season. The Spaniard impressed during his debut season in the premier class on his way to finishing 12th place overall with 97 points.
The 20-year old was particularly impressive qualifying in second place during his home Grand Prix at the Circuit de Catalunya. During post season testing Viñales found himself inside the top five, demonstrating the immense talent he has.
Despite Honda's dream of pairing up Viñales with Marc Marquez to create a Spanish dream-team on the Repsol factory machines, the Spaniard says as long as Suzuki continue to improve, it'll be hard to lure him away.
"Suzuki were the first to focus on me," Viñales told Sky Sports via tuttomotriweb.com.
"I've always been a pilot rider to my team, so I think if you make a good bike, it will be very difficult for me to go leave," he admitted.
Viñales was then asked about the situation that marred the end of the 2015 season. Viñales admitted that Rossi was his idol growing up, but he was put in a difficult position with Lorenzo and Marquez being compatriots of his. 
"I'm in the situation where Valentino is my idol and Marc and Jorge are my countrymen, so I was caught in the middle," he said.
"But I think it's unfortunate that Valentino is had to start from the last place. It would've been nice to see a fight between Valentino and Jorge, maybe on the last lap. Both deserved to win the championship, I think Valentino had ​​the best season of his career… Everybody knows Valentino is my idol."
Photos via Suzuki-Racing.com