UPDATED: Lorenzo to switch from HJC to Shark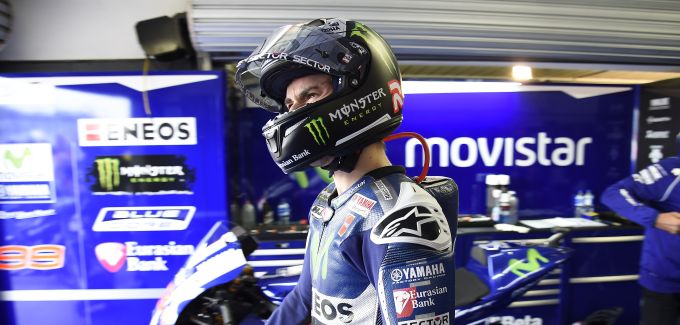 MotoGP World Champion Jorge Lorenzo has signore a three-year deal with French helmet manufacture Shark.
In November we brought you the story that Jorge Lorenzo looked set to part ways with his helmet manufacturer HJC after a dispute, with French brand Shark ready to step in and take on duties of sponsoring the World Champion.
The first rumours said that public relations between the two parties had deteriorated beyond the point where they could continue to work. HJC were said to be upset with the fact Lorenzo neglected to wear the now apparently mandatory "World Champion helmet" after winning the title in Valencia, as well as his very public criticism of them after his helmet issues.
Two days after that report, both HJC and Lorenzo's communications manager, Artur Vilalta denied any truth to the story.
From HJC, we deny all rumors that HJC's contract with Jorge Lorenzo has been terminated. Jorge continues to be our number 1 Ambassador.

— HJC Helmets (@HJCAHelmets) November 20, 2015
Nowadays, @lorenzo99 and @HJCAHelmets have not finished his relationship as some italian media wrote from an unfounded point of view. #JL99

— Artur Vilalta (@arturvilalta) November 20, 2015
Shortly after his initial tweet, Vilalta said that both Lorenzo and HJC are in the process of negotiating a new contract for the three-time World Champion.
. @lorenzo99 and @HJCAHelmets are negotiating the renewal of his contract for the next year. #JL99WC

— Artur Vilalta (@arturvilalta) November 20, 2015
It now appears through stories in the Spanish media [such as those found with Motocuatro and Marca] that the new contract is proving to be the reason behind the split between Lorenzo and his helmet manufacturer.
Lorenzo signed for HJC three-years ago after leaving Nolan/X-lite. Lorenzo's initial deal was a two year deal covering him for both 2013 and 2014. His contract was renewed for a further two years toward the end of the 2014 season, but with an early termination option at the end of 2015. Something which has now been taken up. 
HJC informed Lorenzo at the start of December of their intention to keep the contract valid and keep the partnership into the fourth year. Lorenzo, however, asked HJC if they would reconsider the amount he was due to be paid for using their equipment. The 28-year-old asked for a revised amount of around $1m – something HJC reportedly balked at. 
As well as asking for more money, the Spaniard was requesting guarantees that the problems he faced wouldn't happen again. In Qatar the top part of the inside helmet fell down, obscuring his vision in the closing stages. Then at Silverstone his visor misted up, limiting the progress he could make in the rain.  
Lorenzo remained firm and held out as long as he could, whilst the Korean manufacturer remained firm in their denial. The World Champion thanked HJC for their support through the past three-years, before informing them that he would be signing with French company Shark.
Lorenzo's deal with Shark is a there-year deal, in which they will pay him a figure very close to the amount he asked for from HJC. The deal has plenty of financial incentives, that could see him earn up to double that amount should he have a season in which he wins a similar amount of races to this year and indeed a fourth MotoGP World Championship.
Lorenzo, who was of course compared to a shark by Valentino Rossi with his Misano helmet back in September will debut his new helmet when Yamaha officially unveil their 2016 YZF-M1 in Barcelona on the 18th January. 
Lorenzo took to social media to ask if everyone was ready for New Years eve, posting a photograph from his recent shoot with Vogue, in which he is wearing a plain black helmet. The helmet appears to be a HJC helmet, but with no HJC logos at all on the helmet. 
https://twitter.com/lorenzo99/status/682191119875182595
The deal was confirmed Monday morning, where he hopes it will be the start of a very long and successful spell for both Lorenzo and Shark.
"I am very proud to be tackling the forthcoming seasons with such a prestigious brand as Shark, which has a long history in MotoGP," he said.
"For me, this represents a most exciting challenge and I am quite sure that, together, we will form a great team. I really hope that I can reward all this confidence they have placed in me with some major successes."
Shark already boasted the services of Moto2 World Champion Johann Zarco and Moto3 runner-up Miguel Olivera, but understandably Shark Chairman, Patrick Francois, says he's delighted to secure the services of the MotoGP World Champion, hoping Lorenzo can also improve their products.
"We are very proud of the trust that Jorge Lorenzo has placed in our brand and in our helmets by joining the Shark Racing Team for the forthcoming seasons of MotoGP," said Francois.
"Having the chance to work with such a high-level experienced rider is a real opportunity for our brand, as his skills will enable us to push back the technical boundaries of our products.
"Jorge is aware that thanks to our leading position in the market for motorcycle equipment, we will be applying all our knowhow and expertise to every race in order to support him and fulfil all his expectations. We are certain that the quality of our products will meet with his full satisfaction and that this partnership will lead us all onward to resounding victories during the seasons to come."
OFICIAL. Tras acabar contrato con @HJCAHelmets, @lorenzo99 ficha por @shark_helmets. #JL99WC pic.twitter.com/gIyFkmZQF7

— Artur Vilalta (@arturvilalta) January 4, 2016
Photos via Movistar Yamaha