Stoner thinks Marquez feels threatened by him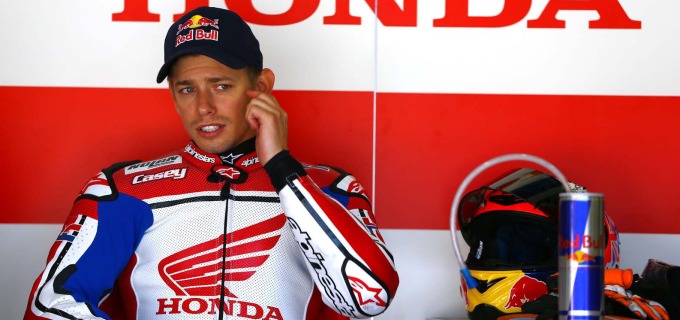 New Ducati test rider Casey Stoner has said that he thinks that double World Champion and Honda star Marc Marquez felt threatened by his presence within HRC.
The Australian, who has just re-joined Ducati as a test rider, joined Honda in 2011 and won his second MotoGP title the same year. It was Honda's first title since Nicky Hayden in 2006. Stoner shocked the MotoGP world when he announced he would be leaving the Repsol Honda team after just two seasons, by retiring at the end of 2012 , just 27 years-old.
After his retirement Stoner remained close with HRC and took on a part-time role as a tester for HRC. Despite not getting as many tests as he wanted, he was also granted a racing return by being offered the chance to race in the Suzuka eight-hour, in which a mechanical issue caused him to crash out.
The now 30 year-old feels that he wasn't utilised nor offered as many tests with Honda, as they didn't want to upset the apple cart and risk the wrath of Marquez.
"It's not the same," he told Motosprint when asked how his role with Ducati would differ from what he has been doing with Honda.
"At Honda I was just an occasional tester, I did not have any other role and, to tell you the truth, they never took full advantage of my potential.
"I think Marquez and all his entourage felt threatened by me. I don't know why they thought that, but that's my feeling.
"I was at Honda to do some testing, to try new things that could then be transferred to the works riders, so I was there to help Marc. But it's also true that the number one rider is the one everyone must follow."
Stoner was quick to dispel the notion that he had fallen out with Honda, insisting that he remains very close with HRC Vice President Shuhei Nakamoto, despite joining Ducati.
"I have no grudge against Honda. And I have great respect for Nakamoto. As a matter of fact I'm certain that our relationship has not deteriorated for this and that we'll get on well."
Speculation was rife that Stoner had fallen out with Honda, once it became apparent that he was overlooked to stand in for Dani Pedrosa during the Austin and Argentine Grand Prix, with the Spaniard recovering from an operation to cure his chronic arm-pump issues.
Stoner was keen to stand in to race at two circuits that weren't on the calendar when he was a full-time fixture on the grid, but Honda instead chose full-time test rider Hiroshi Aoyama.
"At that moment I got a bit confused," he said.
"In the sense that I had thought I was precious for Honda, and to have demonstrated that. When I arrived, in 2011, I won the title immediately, and Honda had not been at the top for several years.
"I felt ready for Austin. Nakamoto told me he was sorry, but he was taking responsibility for deciding towards a different solution. At this point then, I think other people must have put pressure on him in order for me not to race. Someone did not want to see me race."
Stoner took to twitter to inform the public that it was indeed a HRC decision and not his own choice to not stand in.
Bummer I'm not racing, no prep was needed as I wasn't planning on winning, just replacing a good friend and having some fun in Texas!:)

— Casey Stoner (@Official_CS27) April 9, 2015
Honda had initially said they were concerned that Stoner wouldn't have had the speed to give a good account of himself at two new circuits, despite not running in a race since the end of 2012. Aoyama subsequently finished in eleventh position in Austin and crashed out in Argentina.
"I knew I had the speed to be able to replace [Dani], at least adequately," said Stoner.
"During testing at Sepang, in February, I ran at a pace that was very close to that of the race. I mean, at a pace good enough to stay with the leaders. Basically at Dani's pace, who subsequently won the grand prix in 2015."
Photos via Honda Racing Corporation