Jorge Lorenzo plagued by helmet issues in Qatar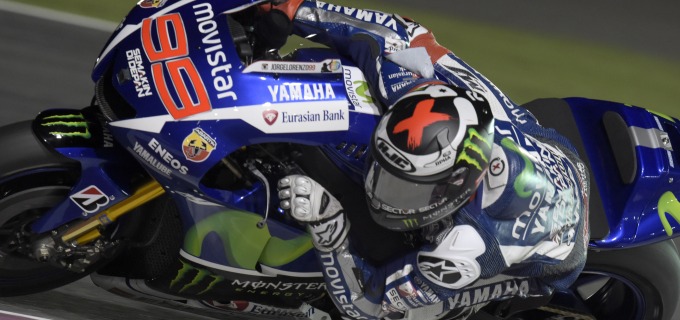 Jorge Lorenzo's chances of claiming victory in the season opening Grand Prix was severely hampered when his helmet obscured his vision with seven laps to go.
Lorenzo's HJC helmet had an issue, and the foam at the top of his helmet stopped him from being able to see clearly. This caused Lorenzo to go from being a potential race winner, down to falling off the podium and having to settle for fourth position.
"The foam that covers all the head was slipping down when I was leading, about seven or eight laps from the end. The last time that Dovi passed me was because I couldn't see," he explained. 
"I was in the 1m 55.9, then when this happened I was 1m 56.3 and 56.4. I couldn't see the corners very well and couldn't concentrate or ride like before and I was losing half a second or more per lap."
It's not the first time HJC have had issues with helmets in Grand Prix racing. Lorenzo has had issues with visors steaming up, as well as aero issues. Ben Spies also had issues when he was in MotoGP with the same problems.
Aquí foto detalle de @lorenzo99 en la carrera. Se puede apreciar lo que ha pasado con el casco. pic.twitter.com/oe9T6u0jlK

— Borja González (@BorjaGonzalezG) March 29, 2015
With regards to the race, Lorenzo feels that if his helmet hadn't caused him an issue, he could've challenged team-mate Valentino Rossi and second place Andrea Dovizioso for the victory.
"Yes, because I was feeling very well, little by little, better and better, especially in the last corners because I was going faster and faster.
"But I had to close the throttle and go slow if I didn't want to crash because I didn't have enough vision to ride well. On the speed and in braking the Ducati was much stronger than our bike, but we could recover on corner speed while the acceleration was similar.
"To be honest, I thought that I could win the race, though it surely wasn't going to be easy, because Valentino had a very strong pace at the end of the race. We improved the setting and it was good. I'm very surprised [to finish ahead of the Repsol Hondas] because they were completely the package for this race," he said.
"Something happened with Dani's pace because he was slower than normal; Marquez made a mistake but also his pace wasn't special, so I don't know what happened."