Jorge Lorenzo wants MotoGP race in India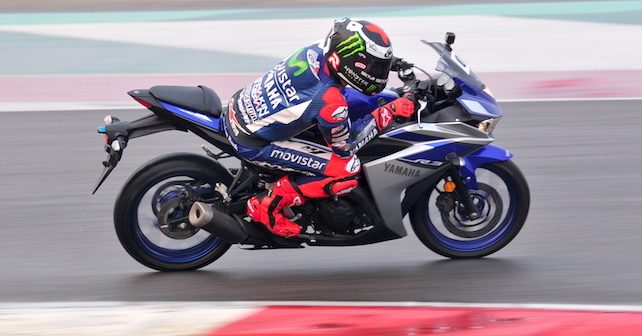 MotoGP World Champion has said that he feels India deserves to host a MotoGP in the not too distant future. 
Lorenzo flew to India to visit the Vicente Ferrer Foundation which is based in Anantapur. The foundation was formed by Spanish philanthropist Vicente Ferrer who spent his life working to improve the lives of the poor in the mission he founded in Southern India. Whilst out there, he took the chance to do some promotional work for Yamaha. 
Lorenzo was on track at the Buddh International Circuit where he took 30 owners of Yamaha R3's out on a very special track day. A competition was run in the summer to decide who would get to share the track with the World Champion, and Lorenzo spent the morning with the lucky winners before going to visit some projects from the charity in the afternoon.
India has a recent issues with world motorsport. Both Formula One and World Superbikes had brief spells in India at the Buddh circuit, but political issues has hindered future events in both sports. There had been talk that India wanted to join MotoGP when a big shake up of the calendar is expected, and the Spaniard said he would love MotoGP to come to India.
"This was my second visit here, not only in India but also at this track," said that 28-year-old.
"I have to do six laps, not in a row, but with stops to change the group. I was leading three groups on the track and it was difficult as it was wet. Therefore I left a margin for not crashing and just enjoyed the track. It is unbelievable as it is so modern, so wide and so long. I just had to take care of the ones following and make sure they stayed safe and just enjoy the moment.
"I would love it if MotoGP came to India because the market is so huge and it could be very important for MotoGP! There is a lot of love for motorbikes here, as there are more bikes than cars in the cities. They are lovers of motorbikes but they don't have a Grand Prix where they can appreciate the best motorcycle racing championship in the world."
Con la nueva #Yamaha #R3 en India! /Riding with the new Yamaha R3 in the Buddh Intl. Circuit in India! @India_Yamaha pic.twitter.com/HgXgHr0Xnc

— Jorge Lorenzo (@lorenzo99) December 1, 2015
Photos via Movistar Yamaha