Maverick Viñales: Valentino Rossi was my idol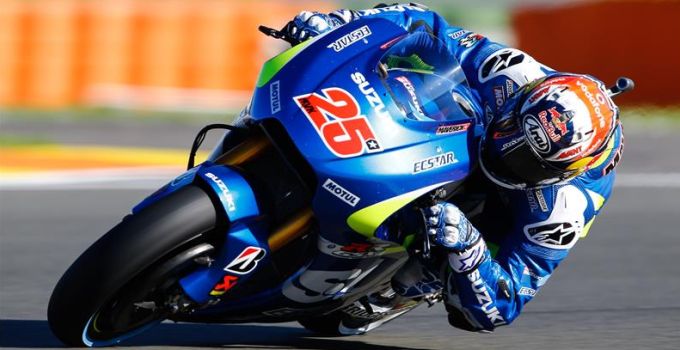 2015 MotoGP Rookie of the Year Maverick Viñales has confessed that nine-times World Champion Valentino Rossi was his hero growing up. 
The Spaniard will now be the favourite of thousands of youngsters growing up, discovering the sport for the first time, and there is little doubt that one day he will go on to win the MotoGP World Championship. Whilst growing up himself, he saw Valentino Rossi win his nine World Championships, with his first coming when Viñales was two and his most recent when he was starting to forge a career in motorcycle racing himself at 14. 
The Spaniard cites everything from his aggressive riding style, to the manner of his victories that appealed to a young Viñales, something he has later studied closely as he looks to improve his own riding ability. 
"When I was growing up, he [Valentino Rossi] was the man in the World Championship. He was my idol," Viñales told RedBull.com.
"I especially liked his victory celebrations; they were unbelievable, and of course his attitude on the track. He was aggressive. I always looked at him very closely. I have studied his style of riding. He now uses a different style, but that only shows his class, because he's had to adapt," he said.
"His first year with Yamaha was really great – he always had exciting fights with other riders. His victory in Jerez in 2005, when he fought with Sete Gibernau, was the best moment of his career for me. That's what I'll always remember."
One of the most popular riders in terms of fans now is Dani Pedrosa. The Spaniard grew up in a different generation from that of his compatriot. Pedrosa is ten years older than Viñales and as a result, supported the rider ten years the senior of Rossi, Mick Doohan.
"When I started to get interested in motorcycles, he [Doohan] was my hero," said the 30 year-old.
"I was about five years old and I liked his riding style and his motorcycle. The fact that he won, of course, was something that I liked. That is very important to you as a child.
"I remember it well in 1998, at the time I was twelve years old and was was having problems that year. But he won the last four races of the season and became World Champion. I found this incredibly strong determination."
Red Bull didn't ask Marquez who his idol was whilst growing up, I wonder why…
Photos via Suzuki-Racing.com