Pedrosa calls out Rossi on contradicting opinions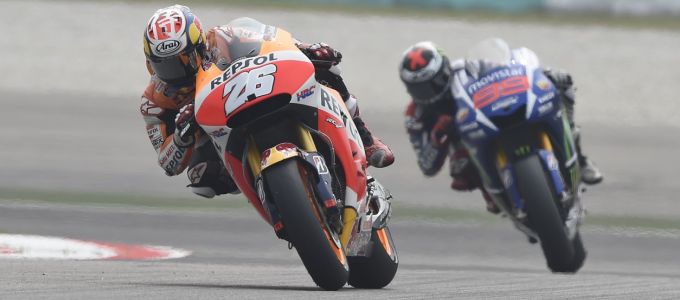 Malaysian MotoGP race winner Dani Pedrosa has called Valentino Rossi out, over contradictory opinions on aggression in MotoGP races.
Pedrosa said that Rossi has always been somebody who wanted to let racers race. He was one for aggressive, but fair racing. This was until the last two races, in which Rossi wasn't getting things his own way.
Over the past two weeks, Rossi has been involved in hard, fighting racing, in which he hasn't bullied opponents, instead getting as good as he can get. And he now doesn't like it.    
"In my opinion, first of all I think Valentino should be here to explain that [if Marquez had deliberately messed with Rossi's race]," said Pedrosa.
"Other than that, I think racing is racing and that in the past I say many times we should race more calm. I remember [saying] with Marco that we should race more calm because this is MotoGP, the bikes are big, dangerous and we should try [be less aggressive].
"But always Valentino was saying, 'this is racing and racing is like this and we should fight'. Now, he's changing his comments to what I was saying before.
"A little bit contradiction in this moment of what he always said and what he is saying now. Maybe because there's tension in the championship is there obviously, but it's a very learning moment clearly, I've never been MotoGP champion and I respect all of the riders, especially Valentino, Marc and Jorge because they are great champions. But a championship is good when you win it because you are the man."
Photo via Repsol Honda