Valentino Rossi hints at car career upon retirement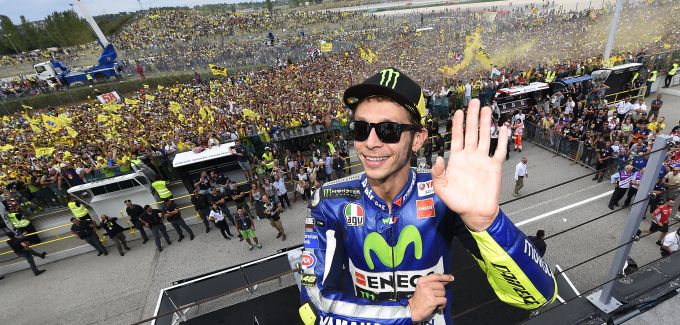 Nine-times MotoGP World Champion Valentino Rossi has dropped his biggest hint yet, that there may be life after MotoGP, suggesting his four-wheeled career will become his primary focus when he eventually retires from two-wheeled racing. 
The 2015 title defeat may be the hardest one for Rossi to get over, leading the championship all year before losing out in controversial circumstances to Movistar Yamaha team-mate Jorge Lorenzo in the last race of the season in Valencia. Whilst Rossi's case with the Court of Arbitration for Sport against the race direction decision is still open, Rossi has told those close to him, he isn't expecting anything to be over-turned.
Many believe that 2015 was the last chance Rossi would get to claim the historic, possibly illusive tenth World Championship title, after claiming his last title in 2009. Marquez failed to finish in seven races, whilst World Champion Jorge Lorenzo crashed out of the race in Misano and had helmet issues in Qatar and Silverstone. 
Rossi – like every factory MotoGP rider other than Maverick Viñales – has a contract until the end of 2016, beyond that, his future is a lot more uncertain. Rossi will be 38 before the 2017 season starts and with no contract in his pocket, a lot of changes to electronics and tyre changes in the sport and in influx of young riders arriving, it wouldn't be a shock to see 2016 as Valentino Rossi's last in MotoGP.
This isn't the first time that there has been speculation Rossi could switch from two to four wheeled racing, with speculation rife after losing out to Nicky Hayden in 2006.
"In 2006 – 2007, there was the chance to become a driver of car. [I had the chance] to start a program with Ferrari as a test driver. They wanted to see my potential; but I chose to stay with the bike and I'm very happy with my choice," Rossi told Sky Sports Italia after claiming his fourth victory in the Monza Rally.
"Now ten years have passed and I'm no longer young, but there remains a great passion for cars. So when I finish the race with a MotoGP bike I'd run in a car. Obviously not at the highest level in Formula 1, but there are so many interesting races that I would like to."
Even if 2016 does end up being Rossi's last season in MotoGP, he isn't resting on his laurels or using it as a parade lap. The nine-times World Champion is asking for some good news for Christmas and he insists he's working as hard as ever to come back even strong next season.
"This for me is the end of the season, the Monza Rally Show is always a nice way to finish. So from December it's time to have a holiday. I'll ask Santa Claus to help me recover a bit from this disappointment, to rest, and to come back stronger next year."
Photos via Movistar Yamaha