Lorenzo: Marquez has done nothing wrong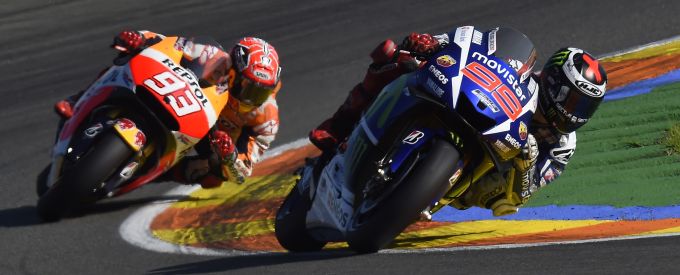 Just when everybody was hoping that the drama that marred the end of the 2015 MotoGP season was going to quietly be swept under the rug, World Champion Jorge Lorenzo has come out and said that Marc Marquez "has done nothing wrong". 
Valentino Rossi accused Marquez of riding to help Lorenzo in Phillip Island during the pre-race press conference in Sepang. He went on to question Marquez' integrity, before the pair clashed in the race. The implications of the clash meant Rossi had to start the final race of the season from the back of the grid in Valencia, where Rossi felt that Marquez "finished his aim" and "protected" Lorenzo as he went on to win his career fifth World Championship.
Lorenzo got involved with Rossi, when he appealed Rossi's outstanding case with the Court of Arbitration for Sport. He then did little to downplay Rossi's theory claiming Marquez was cautious about over taking him in Valencia due to the fact they were both Spanish. The end outcome was that both Lorenzo and Marquez have been on the receiving end of some very intense abuse and criticism from Rossi 'fans' in the weeks since the Valencia.
Whilst carrying out one of his many media obligations as World Champion, Lorenzo questioned the logic of many fans, who continue to abuse both Marquez and himself, but not other riders.
"We know that Rossi's influence with the media and fans is very big, so many people believe in his theory," the 28-year-old told Mundo Deportivo. 
"An athlete with a great influence on the press he can try to change the reality and that is what has happened. Marc has done nothing wrong. He tried to make his race in Malaysia and it was Valentino who did something that's not in the rules. And then in Valencia, several Italian riders said they would try to help Valentino, but they're not attacked like Marquez and I."
When asked about his relationship with his team-mate, the Spaniard's confessed that it isn't a love affair, was barely groundbreaking news, but he did say that despite the fact they're both employed by Yamaha, they're effectively their own teams within the team.
"We don't work together, we're on the same team and everyone has their own set of personal work," he explained.
"Although the bikes are equal, we must try to win, not only against each other, but against all the riders… On my part, there is no problem with any riders, nor do I have any grudges. I try to get along with everyone. I respect all the riders both on and off the track."
Despite the season finishing, the accusations and 'hate' that Marquez and Lorenzo have been receiving hasn't wained. Lorenzo feels if the sport is going to go back to resembling something 'normal', then the Doctor himself must ask his fans to calm down.
"It can only happen if Rossi gives his fans a message to calm down, but I don't know if he is willing [to do that]."
Rossi is in action at the Monza Rally this weekend in his native Italy, whilst Lorenzo continues to recover from his recent injury sustained during his title celebrations back in his native Mallorca. Marc Marquez has been testing his 2016 Honda RC213V down in Jerez before the winter testing ban at the beginning of December.
Photos via Movistar Yamaha