Zarco ends Moto2 year fastest in Valencia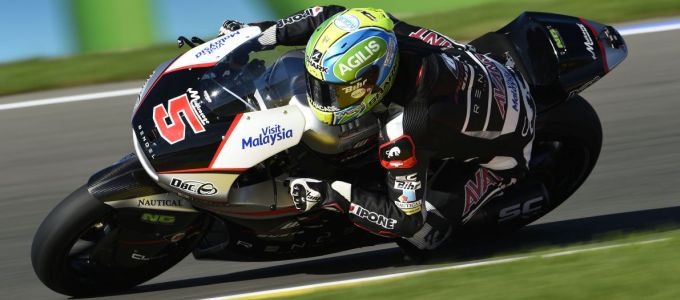 Moto2 World Champion Johann Zarco ended 2015 in a similar fashion to how he raced it, as the fastest man, as the Moto2 year came to a close in the final test of the year in Valencia. 
The Frenchman about his Ajo Motorsports Kalex put in a remarkable 148 laps over the two days in Valencia, regularly lapping under the lap record, with a fastest time of a 1.34.489 which was half a second ahead of the circuit record, previously held by Pol Espargaro during qualifying in 2013. 
"These two days in Valencia were a good test for us, especially considering that we did not have a good weekend here during the GP," said the 25-year-old.
"I never felt very comfortable on the bike, but from Monday I got faster and my feeling improved. This has made me more relaxed mentally. We have been working on different balances for the bike.
"After a year of experience, we don't need to focus on times but rather work on understanding the bike better. We need to see what setups are best and be prepared for the different conditions that will occur next year. This is what we have been working on.
"Today the conditions were very good; it was sunny, warm and there was no wind. We finished off by setting a good time, which takes us into the winter break with a smile on our faces."
Behind Zarco was 2012 Moto3 World Champion Sandro Cortese. Cortese was also under Espargaro's lap record, with his new team mate for 2016, fellow German Jonas Folger closely behind his compatriot on the timing sheets.
Marcel Schrotter who is replacing Folger in the AGR team was fourth fastest. Schrotter regularly impressed on the much less favourable Mistral 610 through 2014 and 2015, so he will be hoping that he can continue this impressive start on the Kalex into 2016.
Sam Lowes is another man who is getting used to life on a Kalex and he was fifth fastest overall, just over half a second off the fastest lap of the two-days set by Zarco. Lowes was just ahead of Julian Simon and Axel Pons. Former Gresini man Xavier Simeon was eighth fastest on his Speed Up bike, whilst Simone Corsi and 2015 CEV European Moto2 runner-up Xavi Vierge rounded out the top ten.
Today concluded all Moto2 testing in 2015, with the winter testing ban coming into enforcement from the end of November until February 2016.
Photos via Ajo Motorsports