Danny Kent impresses during Moto2 comeback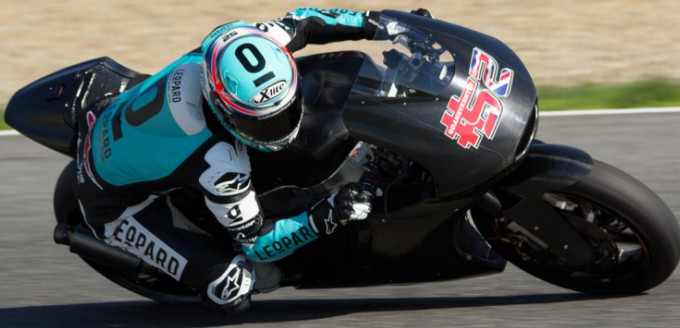 Less than a week after claiming the Moto3 World Championship Danny Kent's return to the intermediate class saw him end the Jerez test fifth fastest overall, under the race lap record of the Spanish circuit.

Kent's time of a 1.42.656 was faster than the current race lap record held by Jonas Folger at Jerez, a 1.42876 and just over three tenths of a second off the overall lap record held by Alex Rins after his test time from Thursday.
Kent, who is making a return to the Moto2 class after a miserable year in 2013 aboard a Mistral 610 machine, will be riding a Kalex machine with his Leopard team next season. The Leopard time (Kiefer Racing) is the same team that helped Stefan Bradl to win the Moto2 World Championship back in 2011. Kent also has the same crew-chief that Bradl had, with Peter Bom helping both Bradl and Kent to their respective titles.
The Brit said that the Kalex machine made him feel right at home in Moto2, as he got through 88 laps over the two days in Andalusia. 
"The first impression after my comeback to the Moto2 category has been very good," said the 21-year old.
"After a couple of laps I felt like back home in this class and it took not a long time to set faster lap times than in my Moto2 season in 2013. In the end I was 1,5 second faster than before at this track. So not only for this I've to say that the first feeling with the Kalex bike is really good.
"In general, it's a great bike to ride and the support from Kalex we already are receiving is really excellent."
Despite his extremely impressive lap times in his first outing – including being over a second faster than team-mate Miguel Oliveira – Kent knows that he still has a lot of work ahead of him before he is ready for his second attempt at Moto2.
"However, this was just our first two-day test for the upcoming season so there is still a lot to learn for everyone in the team but also for my side I must working hard to change back my riding style to Moto2 in order to get closer to the front guys.
"Before heading into the two-month winter break it was important to do this two-day test here in Jerez so I can go back home now to start my fitness training with some slightly changes do the programme to come back in 2016 well prepared for our first Moto2 campaign."
Photos via Leopard Racing