Rins sets lap record in Jerez; Kent and Oliveira debut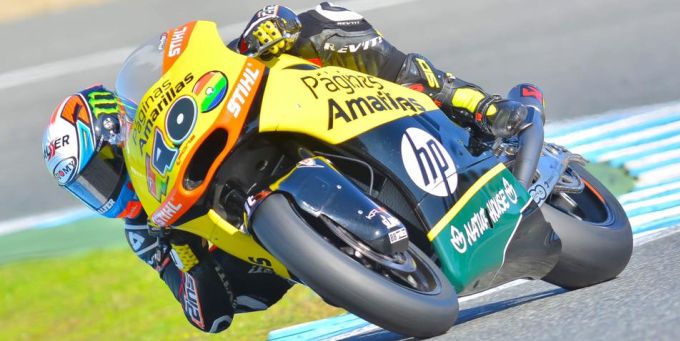 Alex Rins broke the Moto2 Jerez lap record during today's test, which saw Moto3 World Champion and runner up Danny Kent and Miguel Oliveira also get their first outings as Leopard Moto2 riders.  
Track action may have finished in Valencia, but in Andalusia half of the 2016 Moto2 field – and the Red Bull Ajo KTM team – were in action doing 2016 testing of their own.
Track conditions, much like in Valencia, were close to perfect, with Alex Rins taking advantage of this by breaking the lap record around the Spanish circuit. The previous record was held by Stefan Bradl with a 1.42.706, which stood for five years until Rins today did a 1.42.333.
It wasn't just Rins who took advantage of the perfect track conditions to get under the lap record. Axel Pons was second fastest, just three tenths behind Rins with a 1.42.574 with Sam Lowes getting his first taste of a Kalex in third (1.42.586) also under Bradl's lap record.
Taka Nakagami completed the most laps of anyone today and was fourth fastest. Xavier Simeon and Marcel Schrotter were fifth and sixth places respectively, whilst Luis Salon, Julian Simon and Xavi Vierge rounded out the top ten. 
The Leopard Racing Team were also on hand with their two rookies. Moto3 World Champion Danny Kent was eleventh fastest just under two seconds off of Rins' time, whilst Moto3 runner-up Miguel Oliveira was 15th overall. 
Alex Marquez and Ratthapark Wilairot were also present, although their names aren't on the timing sheets as neither of their bikes were fitted with transponders. Wilairot was the subject of crash during the day too, he was joined on the floor by Lowes, Viñales, Pons and Simon who crashed twice. Luckily there was no injuries for any of the fallers.
Tomorrow testing will continue, but the Pons, AGR and QMMF ended their tests today, meaning tomorrow we will see just eleven riders in action.
Photos via Alex Rins, Danny Kent, Miguel Oliveira Facebook