Jack Miller: The seamless gearbox makes a big difference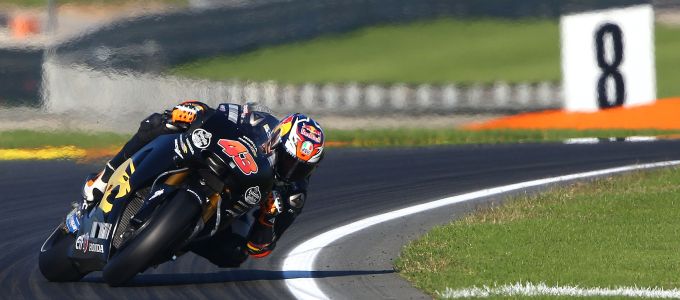 Jack Miller was impressed with his new Marc VDS Honda RC213V after completing two days of testing, during the first 2016 official test in Valencia.
Miller moves over from the LCR Honda team to the Marc VDS Estrella Galicia 0,0 team for 2016 and despite having a year of MotoGP experience on his belt on a Honda, the new factory spec Honda Miller was given was a different bike altogether.
The Australian was joined in his Marc VDS pit and between them, they were both given just one of Scott Redding's 2015 RC213V's each. A seamless shift gearbox and a factory electronics package were a few of the differences on the bike Miller had been testing, along with the new Michelin tyres. 
The 20-year-old's best time of the test was a 1.32.100 which was only 1.040 seconds off Marquez' fastest time, and quicker than the best time Miller had managed all weekend on his LCR Honda.
Despite crashes on both days, the 96 laps put in over both days was enough for the 2014 Moto3 runner-up to get a feel for his new bike and tyres.
"I've really enjoyed my time on the new bike over the two days; the electronics and the seamless gearbox make a big difference," he said.
"You don't have to worry about keeping the bike in a straight line or it stepping out unexpectedly, so you can focus on the other things, like trying to hit the same line on every lap. I felt smoother and smoother on the bike with every exit and that was reflected in the consistency of my lap times.
"Unfortunately we had three small offs, but that's to be expected when you're pushing on new tyres. The Michelin tyres are great, but they are very different in character to the Bridgestone's and we will need time to make the transition. Getting a feeling for the tyres has been one key point of this test and going fast has been another."
Photos via Marc VDS