Jorge Lorenzo burns leg during celebrations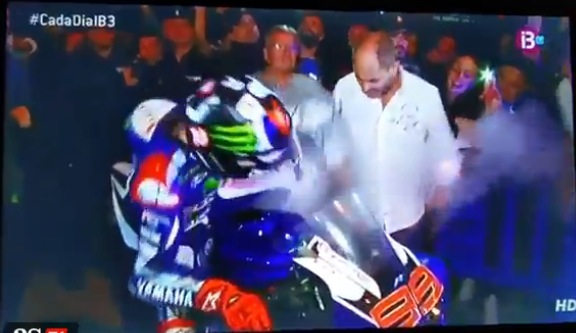 Jorge Lorenzo burnt his left leg when a radiator hose blew on the replica Yamaha R1 he was sat on during his World Championship celebrations in Mallorca this evening.
The World Champion arrived back in his native Mallorca this evening around six o'clock to take part in a title celebration where he would ride into the city centre on a Yamaha R1 accompanied by hundreds of bikes. Whilst Lorenzo was sat on the R1, a radiator hose appeared to break off, scalding the 28-year-olds left calf, prompting him to jump off the bike, leaving him in serious pain.
Afterwards Lorenzo was taken away to get the burn treated and he reappeared this time out of his leathers in normal clothes, with his left leg bandaged up. He then got into a car to head into the city centre rather than riding in as originally planned.
The Spaniard continued with the celebrations where he went to the balcony of the Sea Consulate and showed off his trophy to the thousands of fans in attendance.
Trying to downplay the issue, Lorenzo said: "I raced in Assen with a collarbone, this is nothing."
Check out a video a fan captured on his mobile phone below.
Photos via YouTube and Movistar Yamaha