Lorenzo apologetic after Malaysia gesture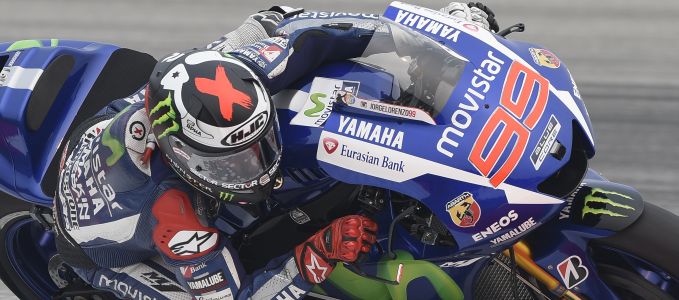 Jorge Lorenzo was apologetic after his thumbs down gesture last time out in Malaysia.
Lorenzo, who was the victim of boo'ing from the fans both before the race, and then during the podium presentation was clearly unhappy with it all, and showed his frustrations by giving a thumbs down to the fans as Rossi got his third place trophy on the podium. 
Lorenzo refused to talk about the clash in Malaysia after being requested not to by Dorna CEO Carmelo Ezpeleta. But he did say that he will respect any decision that is made by the Court of Arbitration when they make their final decision.
Thursday lunchtime saw Rossi's appeal to have his penalty suspended dismissed, but the case is still open. Despite the legal battle still going on Lorenzo has arrived knowing what he has to do if he wants to win his fifth World Championship.
"I will have to respect the decision [of the Court of Arbitration for Sport] that they decide," said the Spaniard.
"To be honest I arrived here just thinking about the weekend, which is very important for me. I don't want to speak about anything else apart from what can happen in the future on the track. I respect the decision, look forward for tomorrow.
"About the past I just want to say it was a mistake the gesture I made on the podium. I regret that and I want to say sorry for that and especially to the people who watched it on the television. It's not a sporting symbol, especially for the young people who are watching MotoGP around the world, so sorry for the gesture. Apart from this, I don't have anything else to say.
"I'm just concentrating on the weekend."
Despite numerous attempts to draw an answer out of Lorenzo, he wouldn't answer questions about whether he stood by his comments from Malaysia, where he claimed to lose respect for his team-mate.
"What I said in Sepang, I said in Sepang. Now we are in Valencia and I just want to speak about tomorrow, Saturday and about the race out of respect for the championship. I will speak maybe on Monday, but I want to speak about what happens now in the future on the race track," he said.
"I am happy to race this year, happy to race for Yamaha and happy to fight for the championship. I have a possibility to win it and I'm a lucky person, a lucky guy and every day I feel I'm lucky. I have an opportunity to demonstrate my potential and to enjoy life, which is short but nice at the same time."
Whilst knowing there was never any truth to the rumours that he and Yamaha were close to ending their eight year partnership, Lorenzo did say that he wants to remain at Yamaha until he retires. 
"I have one more year, my intention is to continue with Yamaha forever. I've always said that I want to stay in Yamaha until I retire and this is keeping in my mind," he said. "Naturally there are some moments of disagreement and during these days, different things happen, but our relationship in the future will be the same."
He went on to say that he can continue to work alongside current team-mate Valentino Rossi, saying they form "one of the best teams in the world".
"I think Valentino and myself, like I always say, we form one of the best teams in the world. So my idea has always been the same."
Photo via Movistar Yamaha