Jorge Lorenzo takes step forward on 2016 bike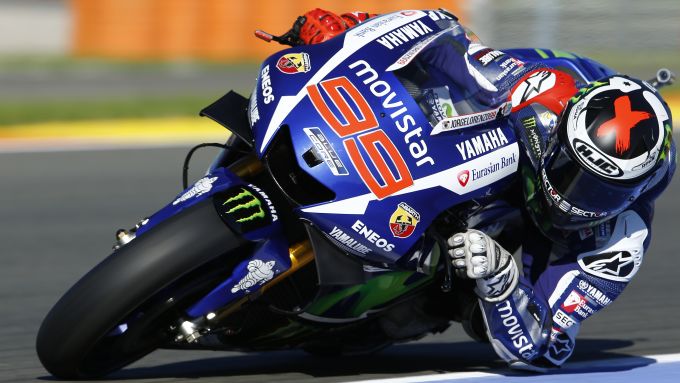 Jorge Lorenzo focused on putting in serious miles on his 2016 bikes as the World Champion ended a year to remember in Valencia. 
The 2015 World Champion was back in action, getting through 48 laps with the majority of his work being done on the 2016 bike. The biggest difference between the two bikes is the experimental back of the seat fuel tank, as well as new front forks, Michelin tyres and mandatory Magneti Marelli electronics software.
The 28-year-old completed the fifth fastest lap of the day, a 1.31.282, which was just over two tenths slower than the best lap of the test posted by Marc Marquez. Lorenzo was focused on working with the new parts for his YZF-M1 and posted his fastest lap of the day on his penultimate lap of the test.
The Spaniard felt that despite being behind both Factory Honda's and Suzuki's, that he and his team made an improvement through the day.
"The 2016 machine we tried in Aragon is the bike that's adapted to the Michelin tyres to get the best performance. The fuel tank is on the back, behind the seat, before it was in front of the rider," he said.
"Today we focused on the electronics, as our lap times are still half a second slower than the lap time we made with the old version. The other thing we worked on is the front tyres of Michelin, which we are still trying to improve. I felt for example that under braking the rear is very grippy in the centre of the tyre but when you start leaning with the front whilst still braking, the front gives you more instability and you can't push so much with the brakes.
"I used the 2016 electronics all day. Yesterday neither the power nor the engine brake was giving the best performance, so they worked on that for the next morning and today I felt that it was much better and we improved quite a bit during the whole day."
Photos via Movistar Yamaha