Rossi livid with "bodyguard" Marquez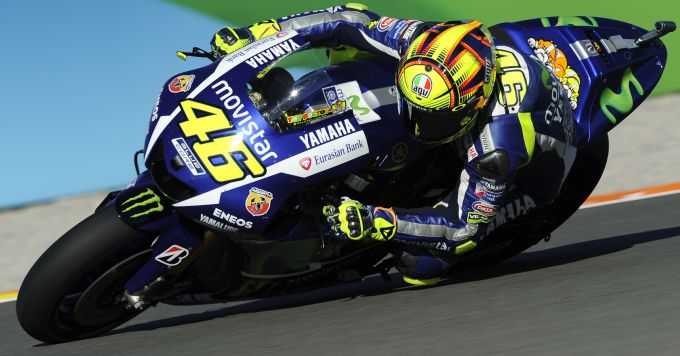 Valentino Rossi has launched another attack on the professionalism of Marc Marquez after he saw his chances of a tenth World Championship vanish in Valencia this afternoon.
With Rossi starting from the rear of the field for the season finale, the Italian was going to need support from Marquez and Pedrosa if he wanted to keep his seven-point lead over Lorenzo.
Rossi needed Marquez to beat Lorenzo and the World Champion sat behind his compatriot for all 30 laps and never once seriously attempted a pass. This is exactly what Rossi accused Marquez of doing in Phillip Island, prompting the Doctor to claim that Marquez was trying to "finish his work".
"This is the final of the championship that I personally, and I think a lot of people, didn't want to see, because it was a great season, with a great battle with Marquez and especially Lorenzo," said the nine-times World Champion.
"I think that this championship had the potential to become one of the best of the last years because the battle with Jorge can arrive at the last point at the last race. But unfortunately at the last three races something changed and something happened that nobody expected. Not only me, but also a lot of people. That is Marc Marquez decided to protect Lorenzo to help him win the championship.
"So the problem started at Phillip Island and it became worse and worse. We arrived in Malaysia where unfortunately we touched and Marquez crashed. Then I learn on Thursday that I had to start last here [last place] and I knew already that my championship was finished, because I was sure Marquez wanted to finish his work and try to protect Lorenzo also in the last race. 
"I said this already Thursday and it happened exactly as I expected. Today the race was quite embarrassing. The last lap I think was quite bad for all the sport, because something happened that has never happened before and I'm not desperate [not winning the title] because I think I play my cards in the best way, but I'm very sad with this finish. I was ready to lose the championship to Jorge, who is always very fast, but this way for me is not fair." 
Marquez strongly denies these allegations. He said that in Phillip Island he overtook Lorenzo with a risky move on the final lap, whilst in Valencia yellow flags and worn tyres robbed him of the chance to mount a serious challenge to the Mallorcan.
Despite Marquez' defence, Rossi wouldn't change his perception of Marquez and the final three races of the season. He went on to say that he thinks Marquez likes the fact he "helped" Lorenzo.
"For me if you check the races of Marc Marquez in the last two years you know he always tries to overtake on the last lap," he said.
"So the question is, why Marc Marquez never tried to overtake Jorge Lorenzo and never tried to make one attempt on the last lap? The situation became very embarrassing for Pedrosa, because Pedrosa was far and in the last laps he recovered two seconds, which means that is the pace of Jorge and Marquez just waited. 
"And for me, he liked that he helped Lorenzo. After when he take off the helmet he is just saying it is not true. But for me, he knows I will look at the television and it is clear that he helped Lorenzo, for me he is happy."
He also questioned Honda's stance on it all. Last week HRC issued a statement claiming that their riders always try to achieve the best results possible for themselves and the team. Rossi challenged that.
"For me the position of Honda is very strange. I don't know how a manufacturer can be happy that one of its riders made Yamaha win and try to fight just with his teammate. This is very strange. But sincerely I don't understand." 
Photos via Movistar Yamaha