Marquez responds to Rossi's latest claims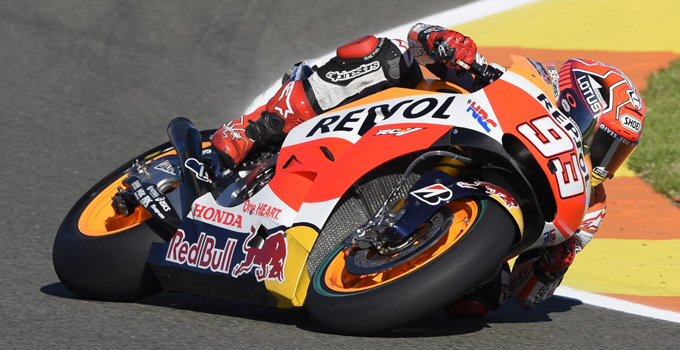 Marc Marquez has once again found himself at the centre of a MotoGP row, this time for moves he didn't make.
Two weeks after the controversial clash in Sepang, Marquez is today being criticised for not making more of a perceived effort to get ahead of Jorge Lorenzo and win today's season finale in Valencia.
Valentino Rossi was once again the man behind the allegations, claiming Marquez had ridden like Lorenzo's bodyguard, despite having the pace to beat him. Marquez sat in second place all race other than a very brief battle that saw him lose the place to Dani Pedrosa before fighting right back.
This left Rossi and many fans upset with the outgoing World Champion, claiming he wasn't trying to win, but instead aid his compatriots World Championship chances. Marquez however, said that he had to check his plan once yellow flags halted his planned attack on race leader Lorenzo.
"During the race I was really focused because I know that Jorge was really strong on the first laps and the first 20 laps it was really difficult to follow him," said the 22-year-old.
"I was able to be a maximum of one second behind him. I then saw that Dani was far and then when remain six or seven laps, I catch him completely and then I start to think about the other races and I remember in Indianapolis where I started to push when remain two or three laps, so I said I will try to do the same. 
"Then I was really close and when remained four laps I said I will attack, but then there were yellow flags at the place where I was closer because in the acceleration I was losing a lot," he explained. 
"I say I will wait until the next lap and on the next lap, Dani arrived to overtake me and I was impressed about this, but he went wide and he was off the line and I tried to be inside to try to catch Jorge again because in that situation we lose half a second." 
Having to explain himself once again has frustrated the Spaniard, who says that he feels "insulted" by the latest allegations against him.
"I can accept when I win and lose," he said. "When the people say that you go out and you didn't try to win the race, to help another rider, I feel insulted. In the end for me I think you know me and I think that always when I go out on the track I give my 100%. This weekend I gave 100% in practice, and the race. I always did and will do this.
"If I tried to be the bodyguard of Lorenzo, I would have been five seconds or six behind and not following him. I took a lot of risks this race to try to follow him but if the target was this one, I would've stayed five seconds or ten seconds behind and not take the risk.
"My target was like always try to give my 100% and try to fight for the victory." 
These past few weeks aside, it has been a tough season for Marquez. Six DNF's meant this was his first season in three in MotoGP he hasn't challenged for the World Championship, in what will be a learning curve for the still young Spaniard.
"It has been a really difficult season and we made a few mistakes that we must avoid next season," said Marquez.
"This last race was not easy for this situation and also because during the season I crashed six times, so I say okay, we must finish this race. I cannot crash again, so for this reason it was difficult to take a lot of risks. In the end, we finished too far from the top but we will try next season to fight for the title again." 
Photos via HRC