Danny Kent ends 38 years of British hurt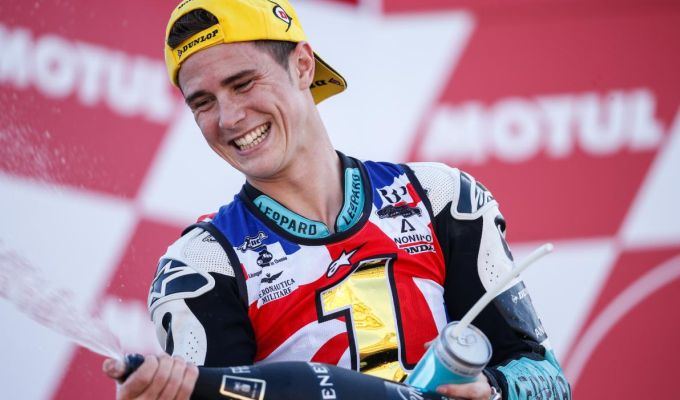 Danny Kent managed to finally convert his dominance over the Moto3 season into his first World Championship.
Kent, who has mathematically been capable of winning the title for the last three races managed to finally get across the line and become Britain's first Grand Prix World Champion, 38 years after Barry Sheene.
The Brit needed just two points to be guaranteed of the World Championship, however he didn't make it easy for himself by qualifying way down in 18th position. But with the help of a calm head and a few crashes, Kent managed to comfortably cross the line in ninth position and take the 2015 Moto3 World Championship by six points.
"To be called world champion gives me goose bumps," said the 21-year-old.
"It's a dream come true for any rider and being British, it's been 38 years, so it means even more than it might for the Spanish riders as there's a Spanish champion every year. You don't get that in England so it's a great feeling."
Kent could've won the title a lot earlier, even with his mistakes and bad luck had it not been down to the sublime form of his teammate for next year, Portuguese rider Miguel Oliveira.
"It's been a difficult few races," he said.
"Luckily we were able to get that big points lead at the beginning of the year. A lot of people seem to be forgetting what we did earlier in the year. We have 18 races and after those races we had the most points. I'm happy for my family, the team, everybody and me. 
"A lot of people have been asking about the pressure and I've had to say 'no, no pressure' as Oliveira is reading all of these interviews. It's normal to have pressure and I put a lot of pressure on myself, as I want to go out there and do my best. Because we had such a great start to the year, doing what we did, we had a big target on our back and in Moto3 it's not easy to pull away 10 seconds."
Kent knew that in order to win the World Championship he had to stay out of trouble and finish the race. Despite so questionably close riding from teammate Hiroki Ono, Kent managed to come across the line in ninth, which was more than good enough.
"The whole race I was just thinking 'stay on the bike'. I made it clear on Thursday that unless we could win the race easily, we'd be trying to stay out of the mix and do what we needed to do to win the championship," he explained.
"For the first few laps I was looking at my pit board and thinking 'I don't feel safe here', if I lost one place the championship would be over. I tried to get into a rhythm, warm the tyres up and step-by-step I started to move forwards one place at a time. 
"We got to one point in the race where I looked behind and there was a two and a half second gap behind us so I thought I should just stay there, out of trouble and in a safe position to take the title."
Photo via MotoGP.com