Danny Kent attracting MotoGP interest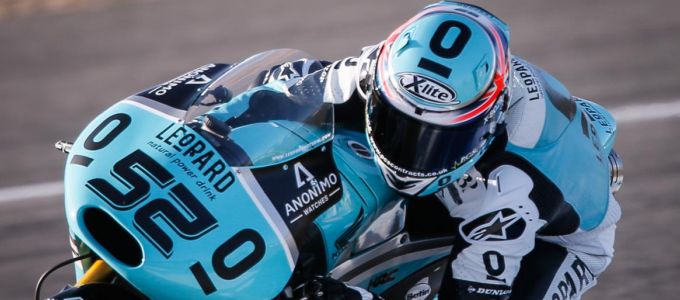 Current Moto3 World Championship points leader Danny Kent has revealed he has had an offer to ride in MotoGP next season, but insists he will chose his next step carefully.
Kent has dominated the 2015 Moto3 World Championship, and he currently sits 56 points ahead of second place man Enea Bastianini, with the title very much his to lose with just eight rounds remaining in 2015. 
Despite his dominance, Kent has insisted he will take his time over his next decision. An ill-fated move into the Tech3 Moto2 team in 2013 saw Kent end the season with just 16 points to his name. A move back to Moto3 has appeared to have the desired effect with it looking like bringing him a world title this season. 
Kent turns 22 shortly after the 2015 season finishes, meaning Kent will be looking at all of his options, with Marc Marquez a double MotoGP World Champion before his twenty-second birthday. 
"I have not signed anything yet," Kent told speedweek.com. "Will we talk to Leopard about Moto2 and I also have offers from other teams. We have options.
"A MotoGP team has interest, but it's still too early to say anything," he added. "We still have some time to make this decision."
There had been speculation that Leopard are in discussions about forming an alliance with the Forward Racing Team, with Stefan Kiefer and Leopard Natural Energy Drinks making a three class set up. However, if you believe the rumours, negotiations are said to be at a very early stage. A lot of the negotiations are said to be centred on the level of support that Forward will receive from Yamaha for 2016 and onwards. 
Despite Kent looking onwards, Leopard Team Principal Stefan Kiefer said that he hopes Kent continues with his Kiefer Racing set-up. 
"I hope Danny continues with us," said Kiefer. "Maybe even in the Moto2 class. We have have an interest in rising into Moto2 with him, especially as a top three rider in the Moto3 World Championship. But I know that Danny has been speaking with a MotoGP team."
As a rule of thumb, a lot of contracts in the paddock have a deadline of the end of August, which coincidentally happens to be during Kent's home Grand Prix at Silverstone. 
Photo via Leopard Racing