Canet confirmed as second Estrella Galicia 0,0 rider in 2016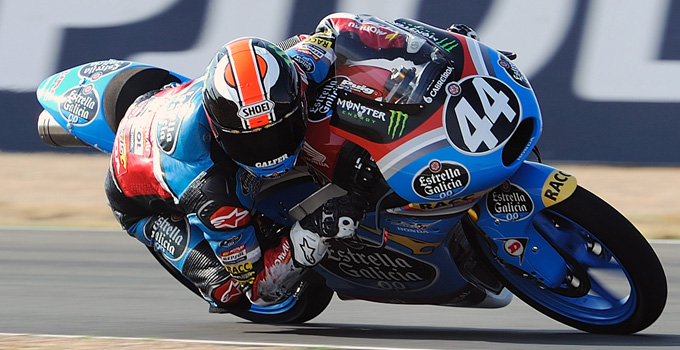 Aron Canet has been confirmed as the second rider in the Estrella Galicia 0,0 Marc VDS Moto3 team alongside Jorge Navarro in 2016.
The 16-year-old Spaniard has impressed this season in the CEV Junior Moto3 World Championship with the same team. Canet was leading the CEV series going into last weekends event in Jerez, however a practice crash subsequently ruled him out of Sunday's two races, which were won by Albert Arenas and Nico Bulega.
Canet will follow in the footsteps of current Estrella Galicia 0,0 duo Jorge Navarro and Fabio Quartararo by making the leap from CEV to the full-time Moto3 paddock, hoping to emulate the success enjoyed this season by his compatriot.
The Spaniard was due to make his Moto3 debut this weekend as a wildcard, but the crash, which ruled him out of last weekends CEV races, has ultimately cost him the opportunity to take part this weekend too.
"I am very happy with the opportunity given to me by the Team Estrella Galicia 0,0 to go to the World Championship with them," said Canet.
"My next goal is to fight for the title in the FIM CEV Repsol in the last two races, which will be held at this circuit next weekend. Although I will not be one hundred percent due to the injury, I will fight to get the championship as a "gift" to my team, for the trust they are placing in me to learn and grow as a rider in the World Championship next season."
Whilst obviously delighted at getting the Canet signing completed, team boss Emilio Alzamora emphasised he still has a job to do in the CEV Junior World Championship first.
" We are very pleased to report that Aron Canet will be part of Team Estrella Galicia 0,0 and will partner Jorge Navarro next season," he said. "Canet is doing a very good job in the FIM CEV Repsol he's working hard, he has progressed from race to race and deserves to make this leap and further training within the framework World Championship.
"Aron has a great talent and can give us many joys in the future, but now must prioritize the championship at the World Junior Moto3. In the last round of the FIM CEV Repsol in Jerez he was injured and could not race in two scoring events, so we will try to be calm and to recover as quickly as possible to get as strong at the last two races."
Canet is the third rider from the CEV Junior Moto3 World Championship who will find himself with a top full time Moto3 ride next season after Joan Mir and Nico Bulega were confirmed with the Leopard and Sky VR46 teams respectively.
He will replace the out-going Fabio Quartararo who will be moving to the Leopard KTM team along with the aforementioned Joan Mir.
Photos via CEV Repsol