Bastianini confirmed with Estrella Galicia 0,0 for 2017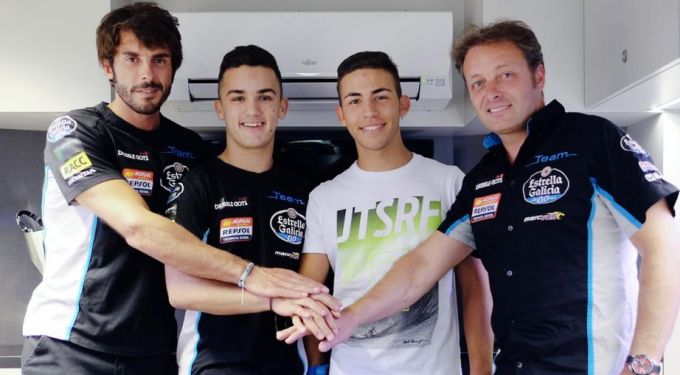 Enea Bastianini has been confirmed alongside Aron Canet in the Estrella Galicia 0,0 Moto3 team for 2017.
The Italian will be leaving the Gresini team – where he has been replaced by Jorge Martin – and will join Emilio Alzamora's Monalu team, replacing Gresini Moto2-bound Jorge Navarro.
Bastianini has endured a difficult 2016 season after coming in as one of the pre-season favourites after a strong 2015. Still with the Misano victory of last season as the only win on his resume, Bastianini will be hoping to mount a serious challenge on the Moto3 World Championship with the Honda team next season. 
"I'm very happy with the agreement that we've signed with Estrella Galicia 0,0 to form part of their structure in 2017," said the Italian who is currently fourth in the Moto3 World Championship standings.
"After competing with the same team for 3 years, changing will be a big challenge. I already know some of the team and there's a great atmosphere; I think we're going to work very well together.
"I would like to thank Fausto Gresini and Gresini Racing for having given me the opportunity to make my debut in the world championship, and in doing so to have made one of my dreams a reality. I have learnt a lot, but I think now is the time to change, my priority now is maintain concentration this season to end the year in the best position possible, and then we'll look to 2017, which will be a very important year for me."
Bastianini will join Aron Canet who will be hoping to build an on impressed rookie campaign this season as he looks to mount a title challenge of his own. 
"To continue another year with Estrella Galicia 0,0 makes me very happy because I've been with them since my second year in the CEV Repsol and I know everyone well," said Canet.
"Behind the work done at the circuits there's a great human team, and it creates a close and family atmosphere – this makes working within the environment very good. The fact that I can carry on counting on the experience and knowledge of my technical team, as well as what I've learnt this year, will be the key to taking a step forward in 2017 and achieving the most we can."
Team Principal, Emilio Alzamora, was delighted to secure the signing of Bastianini after losing Navarro to the Moto2 class, as he hopes to help another rider claim the Moto3 crown.
"We're very happy to announce Enea Bastianini and Aron Canet as the riders in our team for 2017," said Alzamora.
"All the experience and knowledge of the Estrella Galicia 0,0 team will help them to continue growing as riders. There is no doubt that both riders are very talented, and that alongside our experience and methodology, we will be able to keep working to remain a top team of reference in Moto3, and fight for the championship."
Photos via Estrella Galicia 0,0