Valentino Rossi: I regret running wide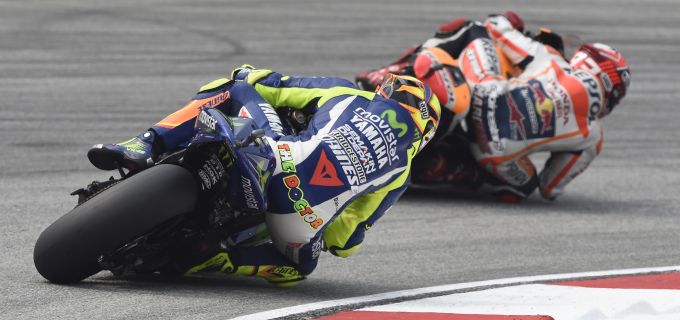 Despite being instructed not to talk about the events of Sepang two weeks ago, Valentino Rossi admitted he regrets running wide and not following his normal line, but confirmed despite what unfolds, he will be back in 2016.
Rossi was accused of 'irresponsible riding' by Race Direction in Sepang, and as a result he was given a three point penalty, meaning he would start this weekend's final race of the season from the back of the grid.
Whilst Rossi has since pleaded his innocence and he even opened a case with the Court of Arbitration of Sport to try and get his penalty points removed and allow him to start this weekend's race from where he qualifies.
"At the end, unfortunately [I didn't] have any other choice, I just regret to go wide and not follow my normal line, but except from that it's better that we speak about this weekend," said the 36-year-old.
Rossi was speaking after his appeal to the CAS had been rejected, meaning he knew that he would be starting the race from last place. Rossi who leads his team-mate, Jorge Lorenzo, in the championship battle by just seven points, admits that starting from last place is a massive disadvantage to his title chances.
"Unfortunately, starting from the back of the grid makes everything very difficult," he said. "It's already difficult, but starting from last makes things in the race a lot more harder but I'm here and we have to try the maximum, stay concentrated and try to make good work during the weekend and arrive competitive and as fast as possible for Sunday for the race and see what happens.
"For sure a lot of people speak about the race in Malaysia and the incident and I decided to make the case to the CAS for try to understand if it is possible to fight for the championship in the normal way. The final has not arrived yet, because the thing of today is just that I have to start last in this race because they need time.
"We have to wait and see what they decide, but the important thing is I have to start last. Apart from that Carmelo [Ezpeleta] said to us 'don't say nothing more about Sepang' and I also agree because we have another race, the last race, so we have to try to focus on the target and give the maximum for this weekend."
There had been rumours that Rossi was considering retiring after this weekend, unhappy at how he is being treated. The Doctor, however, has said that his enthusiasm hasn't been dampened by the events of the last fortnight. 
"For sure, my dream was to fight for the championship and after a very good season I can fight, but I will try to fight in a normal situation," he said.
"For the rest, this situation doesn't modify my passion or my thinking of the future. I will race next year because I have already a contract and during next year a lot of things will change and maybe change also the level; after I will decide if continue or not."
Extra police have been drafted in by local authorities over fears of fans clashing with the circuit sold out. Rossi called for calm and for fans to enjoy their weekend, rather than letting emotions run too high.
"I think and I hope everything can go in the normal way like a normal race weekend. Always in Valencia it's a great weekend because it's the last race and sometimes it also decides the championship. There is a lot of people anyway and in this case maybe more, but I hope that all remains quiet and we can have a great support from the fans around the track without any problems."
Rossi explained that he will not know how competitive or how much of a chance he has on Sunday until the practice sessions are over. With Rossi starting at the back of the grid, all of his focus will be on working towards the best set up for Sunday's race, rather than having to worry about setting the bike up for one quick lap during qualifying.
"It's very difficult to say how much chance I have to win or lose. We have to see, we have to try. When you start last it is very difficult to prepare some strategy. First of all you have to work well in the practice and be competitive. The race is very long, 30 laps, and for sure when you start last the risk is a lot more when I try to recover.
He continued, "It's very hard to say, I need to understand my potential, I need to do the right choice for the setting, for the tyres also and we have to see the conditions. Then after try to give the maximum and try to recover on Sunday. In our team, all my guys, we are focused. We have to try and we try to make this like a positive motivation."
The Italian also said that he will ride in Q2 should be find himself in the top ten after the three free-practice sessions, despite the fact he cannot start the race from where he ends up. Cynical voices have said that Rossi will attempt to aid other riders in a bid to hinder Lorenzo, but the Doctor said he hasn't discussed any special plans for Saturday afternoon.
"We didn't speak about that yet. We have to make all our thinking and calculations and do what is the best. I will do exactly the same if I'm in the first ten – I will do the Q2. For me, it's good to do the normal way and after we see."
Photo via Movistar Yamaha