Nicky Hayden becomes a MotoGP legend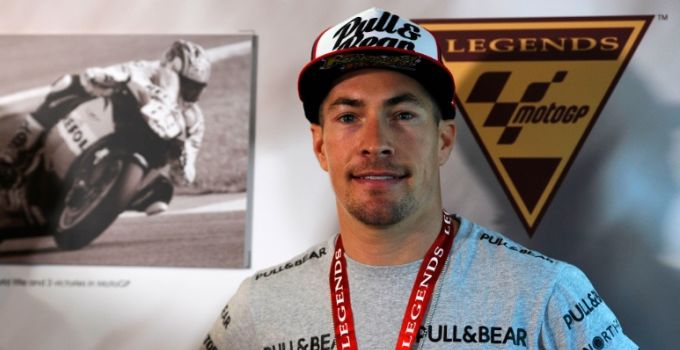 Nicky Hayden joined names like Giacomo Agostini, Mick Doohan and Kevin Schwantz as a MotoGP legend today in Valencia.
The 2006 MotoGP World Champion was officially titled a legend of the sport in a moving ceremony during Friday lunchtime. 
Hayden, who will be leaving MotoGP after thirteen seasons in the sport, was given the honour in his final race and at the scene of his greatest triumph. Back in 2006 The Kentucky Kid arrived in Valencia eight points behind Valentino Rossi. As history would have it, the sun shone brightest on Hayden on that day in 2006, gifting him his MotoGP World Championship.
It was to be Hayden's only MotoGP World Championship, and going into his final weekend he holds 28 podiums, five pole positions and three race wins, including two of the most memorable victories on home soil at Laguna Seca in 2005 and '06. 
"It is really is a great honour to receive this," said the former Repsol Honda and factory Ducati man. "I do not take it lightly, I know there are people in this club with more illustrious careers and who have obviously won more than me, but regardless I got in there.
"I'm very happy, I mean for 13 years it was eat, breathe and sleep MotoGP. It's been an amazing ride. Of course these last two years have been tough, but I've enjoyed every minute of it, worked with some great teams and rode some great bikes. 
"It's really fitting to do it here at Valencia. This is the track I came to watch at in 2002. I stood out there and wow. It was my first European GP and it was a big shock just how professional everything was and the size of the crowds. I realised then I was in the big leagues and better get it together quick.! 
"That first year was tough, but also in Valencia I got the rookie of the year, was able to beat the 250cc champion and the World Superbike Champion and runner-up, which was pretty special. Then to get the crown here in 2006 was obviously the highlight of my career and something really special for me and my family. 
"I'd just like to thank everybody who has supported me through it all, my teams and my family, I appreciate it all. Thanks also to Carmelo; I think MotoGP – as much as the last weeks have been a little negative – is in a great place. The sport is bigger and better than ever, the tracks are safer and the young talent keeps getting younger and faster. So the future is very bright." 
Dorna CEO Carmelo Ezpeleta was presenting Hayden with his legend tags, and was honoured to be giving one of the nicest guys in the paddock some recognition he deserves.
"For all of us, it's a great pleasure to give Nicky this award," Ezpeleta said.
"This is not just because you've been Champion and you're one of the riders with most starts in the premier class, but also for your behaviour over all those years, your sportsmanship and your friendship. It's a great pleasure to consider you one of our legends. Thank you for all you've done for the sport in all those years."
Photo via MotoGP.com