Lorenzo: Rossi gets away with it because of his name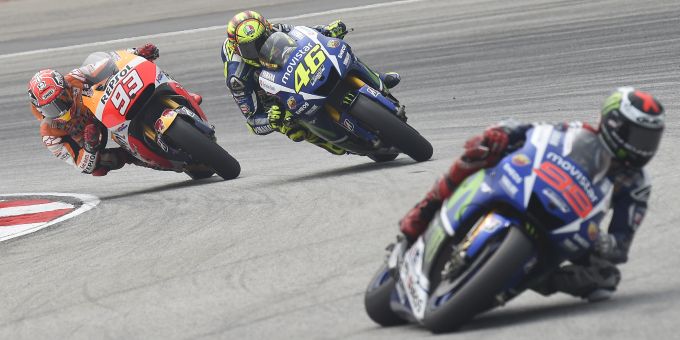 Jorge Lorenzo was fuming after finding out Valentino Rossi wasn't going to be disqualified from Sunday's Malaysian MotoGP, insisting he gets away with more riders, due to his name. 
Lorenzo finished the race in second place behind Dani Pedrosa and ahead of his team-mate, further reducing the gap between the top two, to just seven points with only one round remaining. However, it was behind Lorenzo where all the drama happened. Rossi clashed with Marquez, with the end result seeing Marquez end up on the floor.
After speaking to both riders and viewing multiple replays, race direction decided to give Rossi three penalty points. Those three points, along with the point he picked up in Misano, means he will have to start the final Grand Prix of the season from the back of the grid. The official word from race direction was due to Rossi slowing down, and making contact with Marquez. After the race when Lorenzo saw the incident, he seemed sure that Rossi should've got a harsher punishment that he actually got.
"To be honest I just heard the decision and I don't think it is a good decision, because he took out Marc and Marc crashed and get zero points, but Valentino keeps 16 points," said a visibly angry Lorenzo in the post race press conference.
"I think it is unfair and maybe because of his name, he can lose no points this time. I saw [the crash] once. It's unbelievable; I saw and I didn't believe! It doesn't enter my head to do these kind of things, never in my life.
"In this kind of corner that you are completely in the angle, braking in the angle, to put up straight the bike and slow the other rider and make like this with the leg, it's unbelievable that this happen. But it happened and Race Direction made a decision and we have to respect it, but I don't share it to be honest."
Despite Rossi keeping his sixteen points for third place, a win in Valencia would mean Rossi would need to finish second to win his tenth World Championship. Despite that being a tall order in Valencia, Lorenzo still feels like his team-mate should've incurred a harsher penalty for his actions.
"Minimum, Valentino should have the same points as Marc because without this action, Marc would not crash and he will finish probably in third position or fourth position," he said.
"If he didn't finish the race and get zero points Valentino should make the same. With much less aggressive actions by other riders, they get much higher penalty sanctions but, as I say before, his name is very important for the championship and maybe because of that, he doesn't get any sanction on points in the championship.
"Yeah, he will start last [for the final race of the season] but I don't think it's fair. We have to respect it, I am not race direction and I was not involved in this action but once knowing this decision I can say that I don't share it."
Photos via Movistar Yamaha