Rossi questioned Pedrosa after Aragon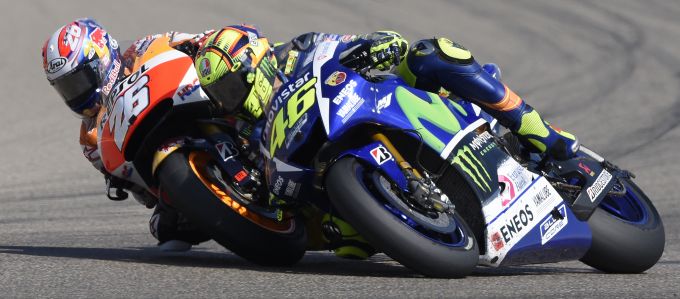 Valentino Rossi was all smiles in Parc Ferme and the post-race press conference in Aragon, but after the cameras were turned off the Italian went and found Pedrosa to ask about his riding during the race.
The Aragon race in September saw the start of Jorge Lorenzo's effort to bridge the gap to Rossi at the top of the championship standings, as he rode a perfect race to claim victory at home. It was behind him where all the drama was happening. Dani Pedrosa and Rossi were embroiled in a race long battle for second place. Pedrosa was uncharacteristically aggressive in the race, beating Rossi at his own game.
It marked the return to form for Pedrosa who went on to win two of the three subsequent fly-away races whilst Rossi has seen his lead fall from 20 points before the Aragon race, down to just seven points with one race to go. 
Once the race was over and both riders had partaken in the press conference following the podium celebrations, Spanish newspaper El Pais say that Rossi then went into the pit of Pedrosa to ask him why he had been riding so aggressively. The paper says that Rossi felt a sense of entitlement and was upset at the risks Pedrosa was running as he had nothing to lose.
It goes on to say that Rossi had done the same thing with Marquez in Phillip Island. We all know what Rossi thought of the events by Malaysia, but El Pais say his theory started way early. They write Rossi crashed a party that Honda was having to celebrate Marquez' win to confront him, asking him why he rode like he did, and questioned why he wanted Lorenzo to win the World Championship. 
This signs of uncharacteristic behaviour from the nine-times World Champion shows the pressure and stress he is under to deliver the illusive tenth World Championship and his first since 2009.
Photos via Movistar Yamaha