Lorenzo denies secret meeting with Marquez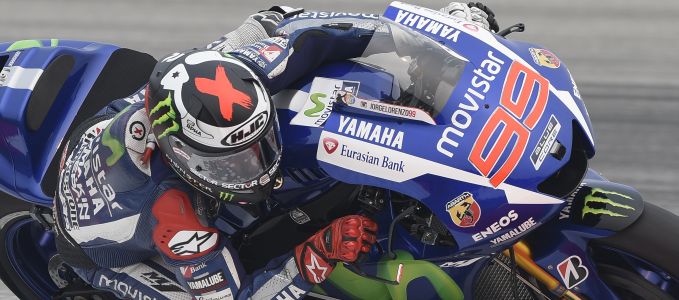 World Championship challenger Jorge Lorenzo has had to rubbish allegations that he met with Marc Marquez to make an agreement for the season finale in Valencia. 
Sensationalist claims in Italian newspaper La Repubblica said that Lorenzo had met Marquez in Andorra – the country of Marquez' residence – to form a secret pact where Marquez will help Lorenzo overturn the points lead of Valentino Rossi to win this season's MotoGP World Championship.
The first rumours of Marquez helping Lorenzo came about when Valentino Rossi accused Marquez of doing so in Australia. The weekends events on further fuelled speculation that Marquez had an exterior motive, and was trying to deliberately hinder the Italian.   
Once Rossi's penalty of three points and not a disqualification was confirmed, there were reports in the British media that Lorenzo was screaming and shouting in race direction, before reports confirmed these were also incorrect.
"From the staff team Jorge Lorenzo, we officially deny categorically everything that has been published in the last hours of a possible meeting or pact between Jorge Lorenzo and Marc Marquez – ridiculous and unfounded information published yesterday [Wednesday] by La Repubblica and subsequently chimed other Italian media," read the statement issued in Spanish.
"Not wanting to feed more this unpleasant situation for the pilot, [we] just want to express unease about such rumours, which have not been verified before going public. We reiterate once again that all this information is absolutely false.
"On the other hand, we also want to deny that Jorge Lorenzo was in the office of race direction after the Malaysian Grand Prix as some media commented, as Jorge himself explained himself at the press conference."
Lorenzo currently trails Valentino Rossi by seven points with just one race remaining. Should Lorenzo win the race, Valentino Rossi would need to finish second place. If Lorenzo is second, Rossi would need to be third, and should Lorenzo finish third, Rossi would just need to be sixth.
Photo via Movistar Yamaha