Marquez: I've said everything I had to say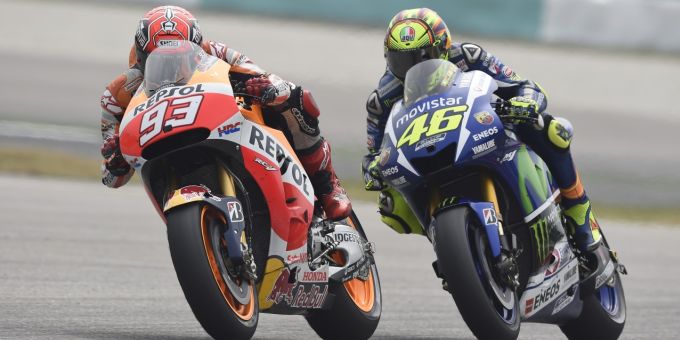 Marc Marquez admits he's moved on from last weekends highly eventful Malaysian Grand Prix, by saying he's said everything he had to say on the topic.
The Malaysian Grand Prix will be remembered as one of the most talked about MotoGP races in history. The race saw Marc Marquez crash out of a battle for third place, whilst Valentino Rossi will start the final race of the season from the back of the grid for his part in the incident.
After the race, both riders held press conferences to explain their story of events. Marquez said that Rossi had kicked his bike, forcing him to crash. Whilst Rossi said that his claims that Marquez was deliberately interfering with him to aid Lorenzo was justified. 
Whilst the incident will still be on the lips of everyone in Valencia, Marquez says he's moved on and is focusing on the race.
"During the whole weekend, I think we were really competitive and we had a good pace. I also have to congratulate Dani [Pedrosa] as he raced at a spectacular pace. And, of course, for claiming victory," Marquez wrote in his official blog for title sponsor Repsol.
"Everyone was able to see what happened in the race and I've said everything I had to say. Right now, I'm only thinking about Valencia, enjoying that GP and giving you all a good race. 
"So this week, when I get home it's off to training hard, which is what I like best! Being able to work alongside my brother, Álex, and focusing on some of the routines that we tend to do is what I'm mostly in the mood for now before travelling to Valencia."
He added, "the nicest thing about Cheste is that it's one of the circuits of the year in which we race in front of our own fans, and that's always special. Also, because it's the last one of the year, the energy there is always amazing, and that's something you notice every single day of the GP from the day you get there."
Photo via Repsol Honda