Maverick Viñales excited after first MotoGP test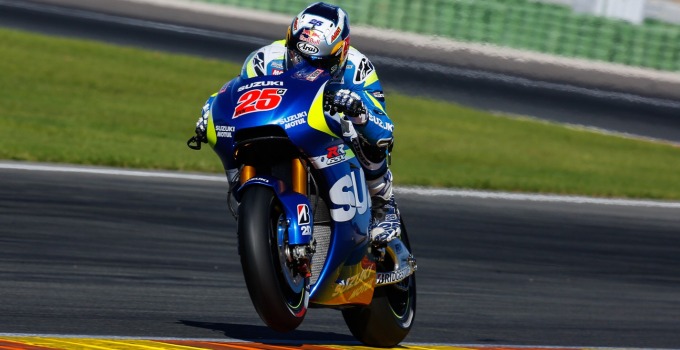 Moto2 rookie of the season, Maverick Viñales made his debut aboard the brand new Suzuki GSX-RR, during the first day of MotoGP post season testing.
The 2013 Moto3 World Champion signed a three-year deal with the returning Suzuki factory team, and impressed posting the most laps on the first day with 64 under his belt. He ended the day 2.2 seconds behind Jorge Lorenzo's fastest time, but only nine tenths of a second behind his far more experienced team mate.
Despite suffering a heavy fall during Sunday's Moto2 Grand Prix, Viñales was fit and firing during the first post season test. 
Speaking after the test, the 19-year old said he was very, very impressed with his new bike. 
"Amazing! On the first lap I go to the first corner and the brakes feel amazing. It feels quite different to before," said the rookie Spaniard.
"In the corners I feel good. I think the most different thing [to Moto2] is the brakes and the power. In the corner the bike is more fast so we need to work more and maintain the bike. For sure the chassis is really good. I can brake really hard and turn good. I just need to be more clever with the gas. So, for now, I need to find the limit."
Viñales confirmed that he spent his first day as a MotoGP rider without the significant electronics – much like fellow rookie Jack Miller – in a bid to improve his throttle control with the added power of the MotoGP bike. Unlike Miller, Viñales did use wheelie control on his Suzuki. 
As well as the extra power of a MotoGP bike, Viñales will have to get used to the new much harder and different Bridgestone tyres this season. Despite the Bridgestone tyres being notoriously difficult, Viñales was impressed with the Bridgestone rubber. 
"They feel good, a lot of grip. You can go [into the corner] full brakes. It's quite different to Moto2. Moto2 you need to be more careful but with this bike I can be really strong on the brakes."
Even though the Suzuki has an added 400cc, Viñales feels that his new bike is perfect for his short body.
"For me it's perfect. I'm small. The Moto2 is wider and at the moment with my position on the bike I feel perfect. The position is so good and I feel so good on the front. It is under control and feel good [pushing] on it. [The riding position] is like Moto2. I only change the line a little bit but that's it."
Viñales did end up in the gravel this afternoon, but he quickly found himself back on the track, claiming that the small mistake came about due to the Suzuki's extra power.
"In the middle of the straight I made a wheelie, he smiled. "[The power] is amazing!"