Casey Stoner back to Ducati in 2017?!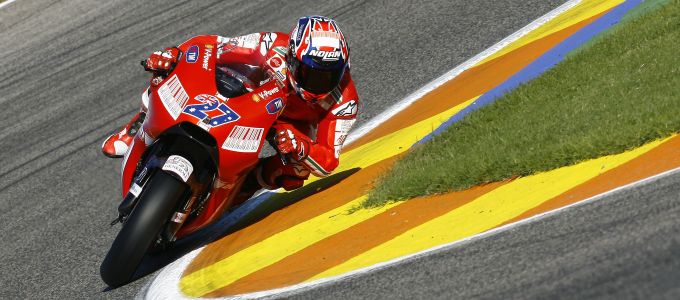 Could Casey Stoner be considering signing a sensational deal to return to MotoGP with Ducati in 2017?
Well, the latest news coming from German website Speedweek.com is that Ducati are quietly confident about securing a deal to sign the two-time MotoGP World Champion to replace Andrea Dovizioso. Despite being away from MotoGP for the past three years, Stoner has remained somewhat active on motorcycles, taking part in private tests for HRC, and of course competing in this seasons Suzuka 8-hours.
Stoner of course rode for the Ducati Factory team for three seasons before moving to Honda for the final two season's of his MotoGP career. He remains the only rider to claim a victory since 2008 on the Ducati, but he is also the only man to win the World Championship on the Ducati.
It was widely thought that should Stoner return to MotoGP, even for a wildcard race, it would be with Honda and HRC. This was until there started to be a breakdown in relations between the two parties.
The start of the fractions came about when Dani Pedrosa was forced to sit out of the Austin and Argentine Grand Prix with his arm pump surgery. At this time, Stoner went to HRC and HRC Vice-President Nakamoto San and asked if he could cover for his close friend, at two circuits that he hasn't raced at. Honda of course decline, and elected to run Hiroshi Aoyama on the bike. It's commonly believed that the reason Honda didn't run Stoner isn't because they were worried about him being well off the pace, but instead taking the spotlight, and possibly even points from Marquez.
After the refusal to let him stand in, Marquez came out and questioned Stoner's abilities as a test rider, after the Italian Grand Prix in Mugello. Then came the Suzuka incident, where Honda took two days to admit they were at fault for the crash, in which the throttle stuck open forcing him to lay the bike down.
Stoner is also thought to be a little frustrated at the bikes he's being asked to test. A lot of the work he has been doing for Honda has been working on the customer RCV1000. No snarling RC213V like the Repsol Honda boys have, instead he has been asked to help try and improve the incredibly underwhelming production bike.
These incidents, and the subsequent tension that has come from it has led Ducati to try and take advantage. It's not a new idea this for Ducati. Back in the summer they were asked about the prospect of Stoner going back to them for some testing like he had been doing with HRC. Ducati Sporting Director Paolo Ciabatti replied saying: "Stoner doesn't want to race. But if he changes his mind, he can contact us."
Whilst it still may seem like a pipe dream, the second half of the season has seen Dovi drop well off of the pace. This loss of form, coupled with the impressive debut in his first full season on the Factory Ducati by Andrea Iannone has Ducati looking elsewhere for a second rider. 
Ducati will be hoping that by the start of 2017 the Desmosedici will be a genuine race winning machine once again, but they are seeking the right rider to take them to second World Championship. With Marc Marquez and Jorge Lorenzo likely to stay with Honda and Yamaha respectively and Valentino Rossi expected to retire at the age of 38 when his current deal with Yamaha expires, that leaves just one possible "alien" on the market, being Dani Pedrosa. Whether Ducati would want a 32 year old who rarely goes through a season uninjured is still up in the air. 
If Ducati cannot lure a "next generation" star like Maverick Viñales – Honda are already trying to buy him out of his contract for 2017 – or Alex Rins – believed to have an offer from Yamaha to partner Lorenzo when Rossi hangs his leathers up – then Ducati could be left wondering where to turn. They will have both Danilo Petrucci and Scott Redding from the Pramac team, but the idea of Casey Stoner would be too great for anyone in red to turn down.
Back to the speedweek story, they've spoken to Ducati Corse General Manager Gigi Dall'Igna who remained pensive when asked about Casey Stoner.
"Personally, I have a feeling that Casey doesn't want to race motorcycles anymore. He likes the life he now leads," said Dall'Igna.
"Maybe he'll go to races in between, like the Suzuka Eight Hours, as they're a nice change for him. Maybe he still enjoys riding a bike. But I don't think he wants to come back to MotoGP."
With the Stoner/Honda relations seemingly breaking down, he was also asked on the prospect of having Stoner do some work as a test rider for Ducati, much like he had been doing for HRC.
"Michele Pirro is our test rider at the moment, we will see what happens in future," he said. "We are very pleased with Pirro. He has brought great benefits, and he has supplied us with very useful information in the Michelin tests. We already understand the tyres really well. He's was also at Misano as a wildcard rider, and qualified in fifth place on the grid, but in the race, he had no luck.
"I would be very proud if I could work with Casey," he continued. "It would be even more fantastic, to have him back in the Ducati family. He is a truly special rider. He's the only rider who has won a Grand Prix Championship for Ducati in the recent past. There are many reasons I'd be glad to welcome him back. But if you want to arrange a deal, both parties have to agree. But nothing is impossible."
Whilst nothing is impossible, Stoner returning to MotoGP with Ducati would arguably be an even bigger shock than when he initially announced his retirement from the sport in 2012. In 2017, Stoner would be 32, not too old for a motorcycle racer, but with the likes of Marc Marquez, Alex Marquez, Maverick Viñales, Jack Miller and Alex Rins all coming through, would a 32-year-old who hasn't raced a MotoGP bike for four years really want to come back? We don't see it, but would love to be proved wrong!