Kiefer Racing focused on Moto2 for 2016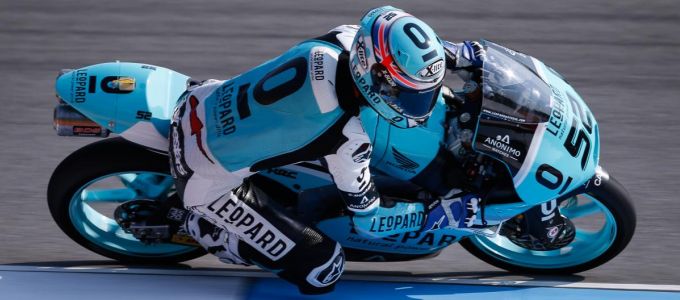 Kiefer Racing will return to Moto2 in 2016. Five years ago they helped guide Stefan Bradl to his first World Championship, now they will be hoping to claim their second Moto2 World Championship in the hands of either Danny Kent or Miguel Oliveira. 
In 2016, the Leopard Kiefer Racing umbrella will house five riders in the World Championship. As GPxtra revealed weeks before the official announcement, Danny Kent and Miguel Oliveira will represent the team in Moto2.
Whilst in Moto3, they will keep the three rider team, but with three new faces. Fabio Quartararo and Andrea Locatelli will come in from the Estrella Galicia 0,0 and Gresini teams respectively, whilst Joan Mir will be promoted from the CEV Repsol Junior World Championship Leopard team. As well as three new faces in the Moto3 team, the team will also be running KTM machinery, not the Honda's which looks set to carry Danny Kent to the 2015 Moto3 World Championship. 
Despite the changes in the Moto3 team, it is the newly expanded Moto2 team that will get the main attention of the Kiefer brothers, Stefan and Jochen, for 2016.
"We will focus more on the Moto2 class next year, where we will be competing with 2016 Kalex's," Team Principal Stefan Kiefer told Speedweek.com.
"On paper, Kent and Oliveira very fast guys. Both have had a good season in Moto3, and will do well next year, but the Moto2 class is quite different from Moto3. The Moto2 class is even closer and harder fought [than Moto3] especially the first five places. It's certainly not easy.
"The guys have great talent, but still, in the first year shouldn't expect too much."
2016 will not be Danny Kent's first voyage into Moto2. In 2013 Danny Kent rode for the Tech3 team on a Mistral 610 machine, and finished the season in 22nd position, before moving back to Moto3 last season. Despite his rough season in Moto2, Kent isn't deterred. 
"It was a bad year, but I feel as though I have matured a lot, and improved as a rider since then. Everyone knows the Mistral 610 wasn't the best of bikes, nor the easiest of bikes to ride. But if we go to Moto2 with the team I'm in now with my current crew chief, who have experience in the class, and won the World Championship with Stefan Bradl. If I can go there on a Kalex, then I can be consistently and immediately in the top five," Kent exclusively told GPxtra back in August, before the deal was made official.
Whilst Kent may be targeting top five, his team boss would be happy if he ended the season inside the top ten.
"The goal of Danny and Miguel is sure to come in the top ten. Simple. But it will not be easy," said Kiefer.
Photos via Leopard Kiefer Racing