Valentino Rossi builds championship lead in Motegi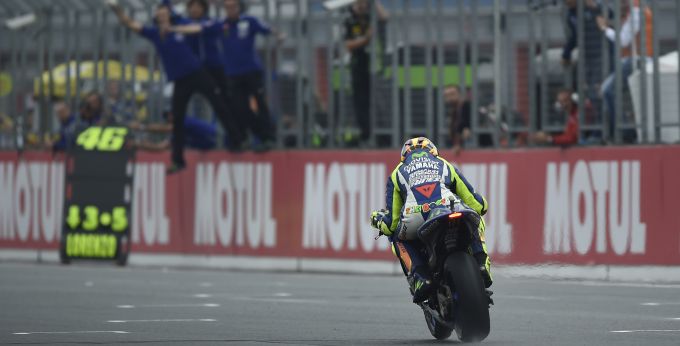 Valentino Rossi's hunt for a tenth MotoGP World Champion became a larger possibility after he extended his championship lead in a thrilling race in Motegi.
In the opening half of the race, Rossi saw his team-mate riding off into the distance, edging away from the Doctor every lap, whilst Aragon spoiler Dani Pedrosa was closing in on the Italian. Pedrosa not only caught and passed Rossi, but also passed Lorenzo to claim his first win of the season. Behind Pedrosa the important stuff happened, with Rossi beating Lorenzo to second position.
With both Yamaha's struggling with front tyre wear, the World Championship leader managed to pass Lorenzo, to gain an additional four points on Lorenzo, meaning the gap is now 18 points with just three races to go.
The gap is now significant, as it means the World Championship is now out of Lorenzo's hands. Should Lorenzo win every remaining race, and Rossi follow him to second, the Italian will claim the historic tenth World Championship.
"Physically it wasn't so bad, but mentally it was very hard to always keep the concentration, because it's very easy to make a mistake," said the Italian.
"At the beginning we had a good pace, but Jorge was stronger than me and was able to create a small advantage. After that my pace was good, I stayed with him and tried not to lose more time and used it as a motivation to keep my concentration, but when the track started to dry everything became more difficult.
"The tyre gave up and started spinning a lot on the straight and Dani arrived. It was a difficult situation, because if Dani beat me and not Jorge I would have lost another nine points after Aragón. I was able to do three or four very strong laps behind Dani and catch Jorge, who then made a mistake. I took an additional four-point advantage, which was our target, so we are very happy.
"The track was a lot better when it was fully wet, because the tyres worked well. When it starts to dry up it feels like you are in a boat at sea, the bike moves everywhere. Three or four times when I touched the throttle I felt the front go and said "no, no, no!", so it was difficult, lots of stress."
Despite the championship almost within touching distance for Rossi now, he insists he will not look beyond Phillip Island next weekend, with two Honda's still quick enough to spoil his party. 
"You have two Hondas, two Ducatis, maybe the Ducatis less – but the Hondas are always strong. Marc [Marquez] always but now Dani is in a great shape and in the last races he is very competitive," he said.
"It's very difficult to think of three races – you have to think race by race; I love Phillip Island like a lot of riders, but it's always difficult to find the setting and also the conditions can be tricky: wind, cold, but it's a great track and we will try to give the maximum."
Photo via Movistar Yamaha