Marc Marquez: Alex also gives me advice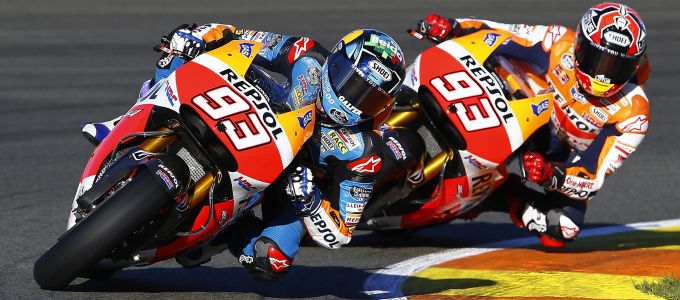 Double MotoGP World Champion Marc Marquez has said that his younger brother, Alex, gives him "more advice than you would imagine". 
2014 was a special year for the Marquez brothers. Marc won his second MotoGP title, braking almost every record along the way. Whilst younger brother Alex won the Moto3 World Championship, his first world title.
2015 hasn't been a continuation of the Marquez fairytale. Marquez looks set for the bronze medal in this seasons MotoGP World Championship, the first time in the last three years he hasn't won a world title. Whilst Alex has struggled to adapt to the 600cc Moto2 machine, and is currently sat in tenth in the title standings, over 200 points behind series leader Johann Zarco. 
That being said, recent weeks has seen more joy for the Marquez family. Two wins and a second place in three races for Marc has seen the World Champion return to some of his old form, whilst Alex claimed fourth places finishes in Brno and Silverstone, career best finishes by a long way.
Many would think that with Marc being a four-time World Champion, and the elder of the two, he wouldn't listen or take any advice from his younger brother. However Marc says this couldn't be further from the truth.
"Yes, of course [Alex can give me advice]," the reigning MotoGP World Champion wrote in his latest blog for Repsol.
"He gives me even more [advice] than you can imagine. Even though I'm the older brother, just because I'm in MotoGP doesn't mean that I'm the only one that can give advice. There's mutual trust. Alex is my brother and best friend, we spend a lot of time together, and we both do the same thing for a living which is what we love the most. It is clear to us that we must listen to each other, help and support one another, and make the most of the trust between us. He gives me quite a bit of advice, and I truly value it."
Photos via HRC