Thousands turn out in Cervera to celebrate the Marquez titles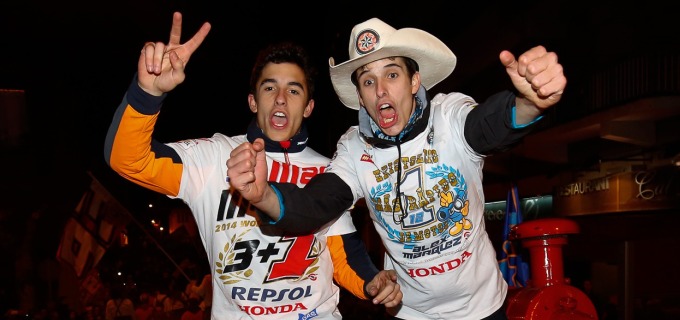 MotoGP and Moto3 World Champions Marc and Alex Marquez took to the streets of their home town in Cervera after their record breaking seasons.
The Marquez brother became the first brothers to both win a World Championship in the 66-year history of the championship, with Marc claiming his second MotoGP world title. Whilst younger brother Alex took his maiden world title, winning the smallest class of Grand Prix racing.
In what has become a tradition in Cervera now, thousands flooded to the streets of the Catalan town to join the brothers in their celebrations.
The pair were joined by all of their teams as they were taken through the streets on which they grew up on, with the streets waving red and blue flags along the way. At the end of the ceremony the pair went on stage and thanked the fans for their unconditional support throughout the season.             
"Today was a very beautiful and special day," Marc said speaking after the event.
"This year the weather has been good as well, and even though it was a little cold at least it didn't rain like last year!
"It was very emotional to see all the people from the town, familiar faces and everyone who has travelled here to celebrate our two titles –both my brother's and mine. All of this shows us that what we have achieved is very big and gives us a lot of motivation for next year."
Whilst it has become almost an annual tradition for Marc, with four titles in five years, it was a new experience for Alex, who loved the parade and the chance to thank all of his fans. 
"It has been a very special day with the people of Cervera and all who have come from outside the town," added Alex.
"We want the fans to feel that this title is theirs too, because without their support it would not have been possible. Last year we held a celebration here, and we promised that we would come back with two titles. We succeeded. It has been a long and difficult year, in which we have had to work hard. Now it is time to rest a bit and enjoy mine and my brother's titles, but I can't wait to face the new challenges ahead."