HRC refuse to rule out all Marquez team in the future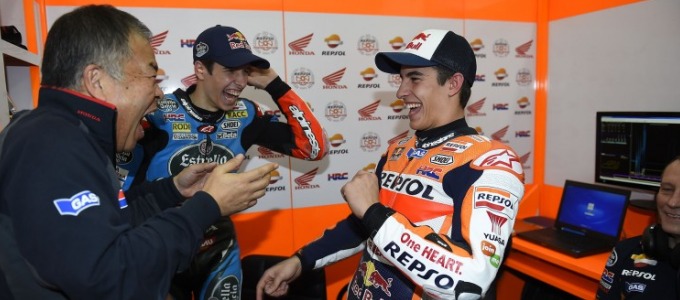 HRC Executive Vice President Shuhei Nakamoto has refused to rule out the option of an all Marquez Repsol Honda team in 2016, when Alex's Moto2 contract expires.
Monday afternoon saw both Marc and Alex Marquez ride on the same track for the first time, with Alex riding Marc's championship winning Repsol Honda RC213V during the first testing day in Valencia. Whilst it wasn't an offical test for Marc or Alex, it was a possible view into the future.
Alex Marquez got his chance to ride on his brothers RC213V after cutting a deal with Nakamoto after delivering Honda's maiden Moto3 title.
Whilst he got his first taste of a MotoGP bike earlier in the week, on Tuesday he went down to Jerez where he has just completed a three day test with his new Marc VDS Moto2 team, whom he will ride for in 2015 and 2016. During the first test, Marquez ended just 0.150 seconds off of Johan Zarco's fastest time, suggesting he is ready to continue battling for wins into 2015.
The expectation that has accompanied Alex in Moto2 has prompted speculation that he could be the man to partner the double MotoGP World Champion in the MotoGP class in 2016 when Dani Pedrosa's contract is up for renewal with HRC. 
Indeed followers of Alex and the Marquez family will not be surprised at Alex's success or potential. A CEV Spanish Champion, the 2013 Moto3 rookie of the year and the 2014 Moto3 World Champion is all already on his CV. Whilst Marc has always said his younger brother was always the faster one, even before Alex found his way into the Grand Prix paddock. 
Should Alex continue on his projected path, a factory Honda seat would be the next target, and despite his brother already being in the team, it's not something that the HRC hierarchy has any problem with. 
"The possibility exists and Honda can consider it, but we need to see how Alex develops," Shuhei Nakamoto told El Periodico.
"I can see them teaming up but not because they are brothers and that would be something interesting in itself, but because they could become the top two in MotoGP."
Should Alex become Marc's team mate, there wouldn't be any animosity elder sibiling to younger. Marc instead said he thinks it would be great to have his younger brother his team mate at some point in the future.
"It would be great to be teammates, at least with the same factory," Marc said in an interview with Cycle World.
"I will continue to give Alex advice, but only for the next two years. I don't want him to become too competitive!"