Marquez: Tito is like a family member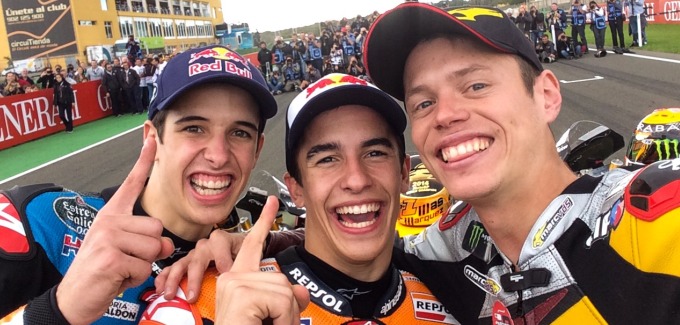 Marc Marquez has said that close friend and Moto2 World Champion Tito Rabat is like a family member to him.
Marc and younger brother Alex are very close with Rabat, on and off the track. They all train together and are often referred to as the "Ruefa" team, in reference to where they are all from. Ruefa is a small race track that was built by the Lleida city council, in Catalunya, when all three of the riders were much younger. It was built when the manager and mentor to the Marquez brothers, Emilio Alzamora was a competitor in the World Championship himself.
With Marc claiming his second MotoGP World Champion, Tito winning the Moto2 title and Alex Marquez winning this seasons Moto3 title all of them can now say they are World Champions.
With Alex securing the hat-trick in Cheste in the final round of the season, the trio could make sure they enjoyed the moment, especially when the three of them were requested to go back onto the track for the obligatory photographs of all three champions on the straight/finish straight. And they even managed a picture of their own on the grid.
"When we had the three of the World Champion photo, that was incredible," Marc said whilst speaking to speedweek.com. "It looked like we were back together in a pub.
"But now we are all World Champions. Of course we didn't expected this at the beginning of the season. For my brother and Tito it was important to win races. However, they were getting stronger. I'm really looking forward to it.
"Tito is like a family member."
Rabat will remain in the Marc VDS team next season, and he will be partnered by reigning Moto3 World Champion Alex Marquez in what must seem like a dream come true for Marc.