Laverty intends on staying with Aspar Honda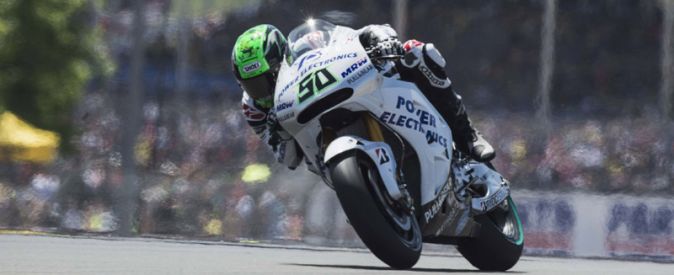 Irishman Eugene Laverty has reiterated that he has a two-year contract with the Aspar Honda team, and has every intention of staying with in MotoGP with Aspar in 2016. 
With 2015 silly season coming towards the end of its cycle, there are still a few questions to be answered, and a few seats up in the air. One of the question marks surrounds the Aspar Honda team. It has been a tough year for them. Title sponsor 'Drive' energy drink pulled out right before the season, and Aspar has been left wanting with some of the results from his two riders. 
With Nicky Hayden looking increasingly likely to leave MotoGP, probably for a ride as part of the new PATA Yamaha WSBK effort, a whole host of names have been linked with Aspar. Jack Miller looks like he is going to need a new home, with LCR Honda angling towards returning to a one-rider effort, whilst Yonny Hernandez and Tito Rabat have been linked with a ride to varying degrees in the past weeks.
Aspar himself doesn't know if he will have the money and resources to support a two rider effort for 2016, but Laverty is defiant in saying he will be back with the team next season. 
"It's talked about a lot. But in the media, it's often forgotten that I have signed a two-year contract with Aspar," he told Speedweek.com.
Jorge Martinez 'Aspar' has said he had expected more from the Irishman in 2015, but Laverty knew it was going to be a learning year. "I trust this team. I knew that the first year would be difficult on an open-Bike. But there was light at the end of the tunnel, because I would get an official factory bike for 2016. I was aware that the Open-bikes would disappear at the end of the year. That's why I've done something that would not do a lot of riders would – I've ridden on a mediocre motorcycle. It's a learning year, so to speak."
He had hoped that his 2016 ride would've been official confirmed this past weekend in Misano, but is now expected it to be made open to the public that he is staying where he is, at the next round in Aragon in just over a weeks time.
"I hoped that in Misano anything concrete was going to be announced, but now I have to wait until Aragon," he said. "I've heard that my two-year contract will be cancelled, but that's not what I want. I signed here, and have sacrificed a lot. That must not be forgotten.
"It's difficult looking ahead. I also know that it is difficult for the team. I can understand their position. Their plan is to continue with Honda and to get a few good bikes. But they don't know at the moment if that will happen with one or two riders. Somehow it has to fit with them."
Photo via ELaverty.com & MotoGP.com