KTM targeting Dani Pedrosa for 2017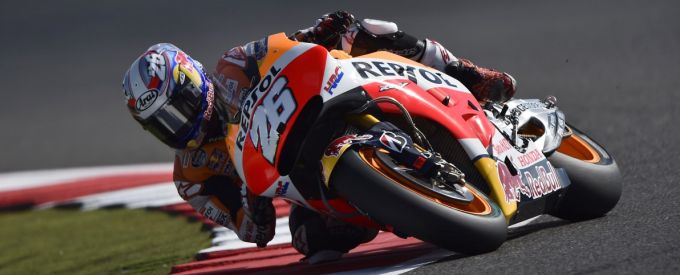 KTM are launching an ambitious bid to lure Dani Pedrosa to their factory team, when they make their MotoGP bow in 2017.
The Austrian company have announced they're making a debut in the premier class of motorcycle racing for 2017, and see Pedrosa as the best man to help not only develop their motorcycle, but also help make it a race winning team.
The claims have come from Spanish journalist Ernest Riveras who, on Spanish television said: "KTM are targeting Dani Pedrosa to begin their project in 2017."
Whilst sounding like an extremely ambitious and totally unrealistic move from KTM, there is a very real chance this could actually happen.
The KTM MotoGP project is headed by Pedrosa's former long term crew chief Mike Leitner, and despite their split last year, the two remain very close. Leitner is a big believer in Pedrosa's talents, and would undoubtedly be one of the first names on Leitner's list of potential riders. 
2017 will also see Pedrosa's contract at Honda expire. After eleven years, and most probably not a MotoGP World Championship, Honda may be looking to promote another young rider – whether that be Jack Miller, Alex Marquez or someone completely different is up in the air at the moment – to challenge Marquez, rather than continue with the trusty Pedrosa.
As well as signing a rider who will help their on-track development and progress, KTM realise the value Pedrosa posses in the Spanish market. Still the second most popular Spaniard on the grid behind Marquez, KTM realises that Pedorsa on a KTM could boost sales of their road bikes in Spain.
It may also make sense for Pedrosa. His riding talents have been long overlooked by fans and even in some quarters of the paddock, the chance to head and develop a team is something he hasn't had at Honda since Casey Stoner was signed in 2011.
There is also strong speculation that Johann Zarco may already be in the frame for a KTM seat in 2017, creating, on paper a very strong team if KTM can secure both signatures. 
Riveras claims state that talks haven't even began between KTM and Pedrosa, but this most definitely could rumble on, well into next season.
Photo via Repsol Honda