Valentino Rossi reveals Misano helmet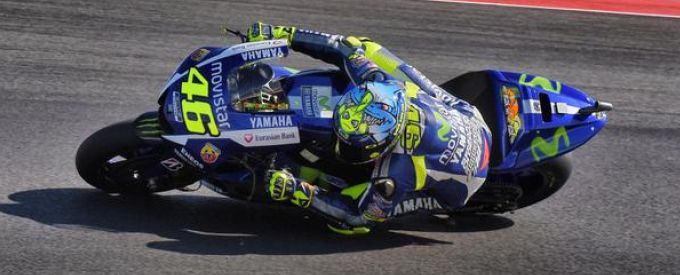 Valentino Rossi as customary has revealed his Misano race weekend helmet, with this years one named "Mind the Shark". 
Every year in Mugello and Misano, Rossi calls upon the help of his close friend Aldo Drudi to design him a special AGV helmet for his home race. Designs in the past have varied from a love heart to donkey from Shrek. But this year's one shows how Valentino is viewing this years World Championship hunt, with some Rossi fun.
The helmet has a yellow fish, with a Rossi earring and a 46 on his back, swimming away from a big blue shark, equipped with red eyes. Now, it doesn't take a rocket scientist to know that Rossi is playing the fish in this scenario, with his team-mate and title rival Jorge Lorenzo taking on the role of the shark. 
With "Via Via Via" on the side – which translates as "Go Go Go!" – it shows just how hard, and how much Rossi is pushing to try and claim his tenth World Championship.
Rossi will need to hope his new helmet slows Lorenzo down this afternoon, as he has been on circuit record speed all weekend, with Rossi around half a second off each of the three practice sessions thus far.
Photo via AGV