Leitner and Pedrosa set to split at the end of 2014 – UPDATED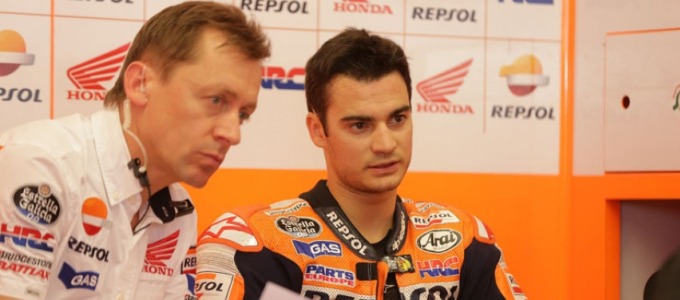 Dani Pedrosa could be set to loose long term crew chief Mike Leitner at the end of the 2014 season, with the Austrian stepping down from his role. 
Leitner, who has been Pedrosa's crew chief for his two 250cc titles, and his whole MotoGP career told the Spaniard that he didn't want to continue their relationship into an eleventh season last weekend in Japan, according to motocuatro.com.
Rumours emerged back in the summer that Pedrosa was looking to replace Leitner at the end of this season, and he even suggested a name to replace the Austrian. Pedrosa apparently wanted to replace Leitner with a member of Nicky Hayden's former Ducati crew, Juan Martinez. Pedrosa was hoping to emulate the success of Valentino Rossi, who replaced Jeremy Burgess with Silvano Galbusera at the end of last season. But that suggested was shot down, due to Martinez' commitments with Spanish television of which he is a commentator. 
With the rejection Pedrosa said in Brno that he wanted to stay with Leitner, and claimed his first, and at the time of writing, his only win of 2014 that weekend, ending the Marquez run of victories. It appeared that both Pedrosa and Leitner were happy to continue it, but it's now emerged that Leitner wasn't. 
Pedrosa was understood to have been shocked when Leitner told him of his decision, and tried to convince the 42 year-old to change his mind, but his decision was firm. He upset with Pedrosa's apparent lack of trust, and his desire to replace him with Juan Martinez.
The news is even more of a shock as Leitner told speedweek.com he was set to continue on as Pedrosa crew chief, just before he and the team set off for Japan. He told the German media he still hadn't signed the contract, but was ready to commit to Pedrosa for another two seasons.
"I still haven't signed a new contract, but it's all clear now," he said. "Honda and Dani want to continue the co-operation. There will be a few changes anyway."
This clearly caught Pedrosa off guard. It's not suggested something happened in Japan to change Leitner's mind. Just he simply informed Pedrosa of his intentions.
Early indications suggest that Pedrosa may turn to his data guy, Aurín Ramon to be his crew chief for next season. With Leitner leaving him short on time, Pedrosa may have to look within the team for his replacement. Ramos knows the bike, and how the team works, but he does have a lack of experience at the top level as a crew chief, in a factory team. With many potential other targets now signed up for 2015, Pedrosa's garage could be in shape for a major re-shuffle. 
Along with Leitner, two other senior members of Pedrosa's garage will be replaced at the end of 2014. The changes he was referring to when speaking to speedweek, were those of frenchman Christophe Leonce and the Kiwi mechanic Mark Barnett, who are both set to leave the Repsol Honda team at the end of the season. With both of those needing to be replaced, as well as either a crew chief or data guy needing to be found, Pedrosa will hardly be going into the 2015 season with the perfect preparation.
As for Leitner, his next movements, Motocuatro have said where he will end up next season, and with Marquez, Miller, Crutchlow and Redding all signed up with crew chiefs for next season, a change of brand looks to be the only possibility should he wish to remain in the sport in his current role. 
Earlier in the season there was speculation he could replace Ramon Forcarda as Jorge Lorenzo's right hand man, but Lorenzo denied Forcarda would be leaving – who himself was linked with joining Maverick Viñales at Suzuki. But that has been denied, meaning Leitner may be out of work for a season, or he may be asked to continue by HRC in a similar capacity to that held by Cristian Gabarrini over the past two seasons, with Gabarrini now signed up to be Jack Miller's crew chief. 
**UPDATE**
Repsol Honda team manager Livio Suppo has confirmed that Leitner will be leaving the Dani Pedrosa side of the Repsol Honda garage at the end of the 2014 season.
"It was a last-minute decision by Mike. We respect it. It was a question of changing lifestyle. Now we have to think about how to replace him," Suppo told the Dorna TV feed.
"No drama. We are all professionals. Dani understands the situation and we keep going in these next three races, which are very important for Dani. So no worries."