SIC58 Moto3 team to World Championship in 2017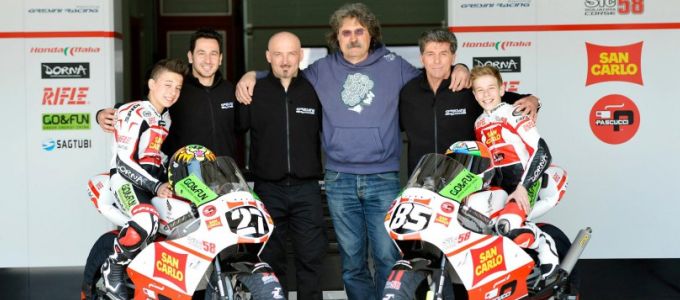 The Moto3 team created by Paolo Simoncelli, father of the late Marco Simoncelli, will take his SIC58 Moto3 team into the Moto3 World Championship in 2017. 
When Marco passed away in 2011, father Paolo decided to create a team in memory of his son. He wanted to help the next generation of young Italian riders, giving them opportunities to achieve their goals. With the help of Aldo Drudi and Marco's former team boss Fasto Gresini, Simoncelli created the "SIC58 Squadra Corse" was born.
With backing from San Carlo and support from Gresini, there was rumours that the team who runs riders in both the CIV and CEV Championships, was ready to expand into the Moto3 World Championship in 2016, at the expense of the Team Italia project. 
However, this has since been denied by Paolo, instead saying that they are targeting the 2017 season as the year to make their bow in the World Championship.
"We will take this team into the Italian CIV championship Moto3 and in the CEV World Youth Championship," explained Paolo Simoncelli to speedweek.com. "We have two separate structures and a total of seven riders for our project.
"The level in the CIV is lower than in the international CEV Repsol Championship. All the young talents will first learn in the CIV and gain experience. We will them take them to the Junior World Championships. In the Italian racing series our boys can start participating at 14. We don't have the support of the Italian Federation. This is my own project."
The obvious candidates for the two seats in the World Championship when they make the move would be their two current CEV Repsol riders, Stefano Valtulini and Tony Arbolino. Valtulini is enjoying the more successful season of the two. He is currently seventh in the Junior World Championship, whilst Arbolino – the 2014 CIV Champion – is currently 21st. When asked if Valtulini and Arbolino will be his two riders in 2017, Paolo simply replied: "We don't know yet." 
As well as the riders, the bikes haven't been confirmed yet either. Valtulini and Arbolino are currently using the 2014 Gresini KTM machines that Bastianini and Antonelli used in last season's Moto3 World Championship. This year Gresini is using Honda's, meaning there has yet to be an arrangement for the SIC58 team. 
As well as Valtulini and Arbolino, Paolo also manages lots of young Italian riders in the CIV and even in Italy's "pre-Moto3" category, open to children as young as 12-years-old. Meaning when 2017 comes around, Paolo Simoncelli could be the man behind the production line of young Italian stars.
Photo via SIC58 Squadra Corse