Sito Pons considering expanding to MotoGP in 2017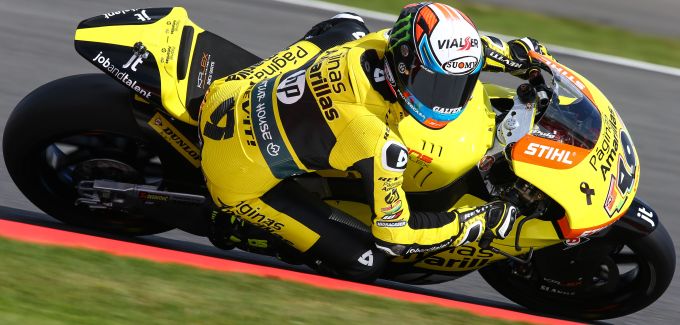 With 2016 seeing MotoGP enter a new era of standardised electronics, Michelin tyres and reduced running costs, many privateer teams are looking at the possibility of getting involved in MotoGP, with Sito Pons' name the latest to be added to an ever growing list.
With a reduction in costs, Sito Pons is exploring the option of expanding his Grand Prix team into a dual-tier effort, moving on from just his current Páginas Amarillas HP 40 Moto2 team. With a successful Moto2 team, and a strong relationship with MotoGP's latest hot commodity Alex Rins, Sito Pons and his ambition to move into MotoGP could appeal to a factory or two.
Pons compared the regulations from 2017 to those that have been implemented in the junior class of Grand Prix racing, since Dorna and the organisers decided to replace the 125cc category with 4-stroke 250's in the Moto3 class. 
"The regulation from 2017 are similar to Moto3, it gives non-factory teams the possibility to compete, and work towards good results," said Pons during a promotional event held in Madrid with Stihl, brand of chain saws and garden machinery that sponsors his Moto2 team.
"This is when a team like ours can consider the possibility of a financially feasible project, as well as a successful project on a results and sporting level. Our goal is always to get good results and fight to be a challenger. Having good results is what motivates any team."
As mentioned, with Alex Rins and Luis Salom signed up for 2016, there is a distinct possibility that should Pons secure a spot on the MotoGP grid in 2017, he would be able to keep hold of his young riders. 
The largest problem the two-time 250cc World Champion will face will be space on the grid. With Marc VDS exploring the option of taking a second bike, as well as current privateer teams such as Aspar, Avintia and LCR grid space is at a premium. In 2017, there will be a minimum of 12 factory bikes (two Honda's, Yamaha's, Ducati's, Suzuki's, Aprilia's and KTM's) as well as multiple of satellite bikes. 
Carmelo Ezpeleta has already said that he doesn't want more than 24 bikes on a MotoGP grid, meaning there may end up being more teams wishing to run in MotoGP, than spaces available. This is where Rins comes into play. 
Should Alex Rins not suffer a horrific 2016 in Moto2, he will be ready to move into MotoGP by 2017. Whatever factory wants to sign him, may end up placing him in a third tier team (Forward/Aspar/Avintia) to get used to MotoGP, whilst remaining linked to that manufacturer. If Pons can convince Rins to sign with him for 2017, he may be able to claim a bike off of Honda or Yamaha to allow them to get the Spaniard right from the start of his MotoGP career. 
There are a lot of variables regarding Pons' potential return to MotoGP, but should they play their cards right, there will almost defiantly be a space available for him in 2017. 
Photo via Pons Racing