Iannone's manager: He will win the title within 3 years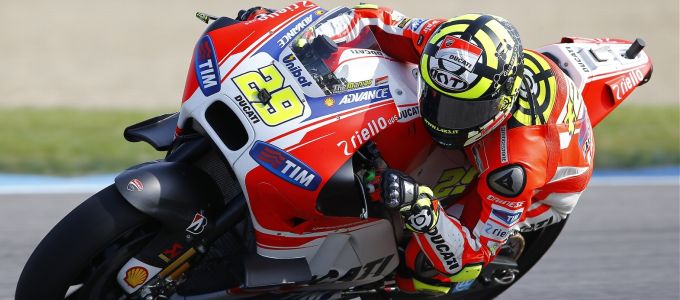 Factory Ducati rider Andrea Iannone will be a MotoGP World Champion within the next three years, according to his personal manager Carlo Pernat. 
2015 sees Iannone in the Ducati factory team for the first time, and the Italian had made the step up superbly, with two podiums and pole position at his home Grand Prix in Mugello. Iannone currently sits in fourth position in the 2015 World Championship standings, and finishing in the points in every race so far this season has gone a long way to helping him get into fourth position.
It's a marked difference from "The Maniac" who was considered a fast crasher 12 months ago, but as well as finishing in the points every race thus far, he has only found himself out the top five just twice all year long. This newfound consistency is what gives Pernat such confidence he will see Iannone as a MotoGP World Champion soon. 
"He has shown great consistency near the front of the pack. He rarely falls and he's one of the very few to have finished all his races," Pernat told motorsport.com. 
At 26 now, it was time that Iannone matured, and with Iannone now entering his prime, Pernat is delighted to see Iannone finally start to show his potential. 
"I am persuaded that Iannone will win the world title one day or the other, in the next three years at the most. He now has everything it takes to do it. He's not afraid at all, even when he's fighting against Marquez. He doesn't care, and he passes him. He's very good in the close battles, even as strong as Marquez."
It's now just maturity on the bike that impresses his manager. Iannone has grown off the bike, handling himself like an experienced veteran in the way he talks in the garage to his mechanics. 
"He easily finds solutions to problems. Engineers listen to what he says because his comments are very accurate, and nine times out of ten he's right on what needs to be done on his machine."
Whether Ducati will put together a package capable of giving Iannone a chance to win a world title will arguably be the biggest question, but with the new rules coming in from next season, Carlo Pernat's prediction might not be as crazy as predicted for Joe.