Andrea Iannone targeting Factory Ducati ride for 2015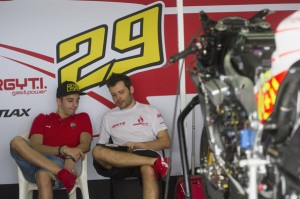 Andrea Iannone has said he wants to stay with Ducati for 2015, but on the prevision that he is a factory rider, or he may seek to move onto pastures new.
Iannone has superb this season for the Pramac Ducati side, and after a string of impressive performances, including a second place in qualifying in Mugello, seeing his stock soar this season. This has led to Iannone believing he should be in the factory squad next season.
We want to stay with Ducati for 2015. But only on the condition that Andrea may ascend to the factory team," said Iannone's personal manager, Carlo Pernat, whilst talking to speedweek.
This may, however lead to a problem. Cal Crutchlow has a second year remaining on his contract, and Andrea Dovizioso has been by far the top Ducati rider this season. Meaning that it could end up being a case of Dovizioso or Iannone.
That however may not be what Philip Morris want, the tobacco giant that funds the Ducati team. Philip Morris likes the idea of two Italians, both names Andrea, on the Italian bike.
In order for this to come to fruition, Crutchlow would have to take his opt out option after the first year of his contract. Although this remains very unlikely. Crutchlow made it very clear he wants to ride a factory bike, and after a year getting used to the Ducati he probably wouldn't want to leave the Ducati. Crutchlow would probably have to take a wage cut should he want to move away from Ducati, meaning this looks very unlikely.
This could mean that Iannone may look elsewhere. Pernat said that there had been no communication between himself and fellow Italian Davide Brivio over a potential move to Suzuki, and he confirmed that, "Honda have no interest in Iannone". Meaning the only other possible team is Yamaha.
With Lorenzo and Rossi on the verge of contract extensions, and Pol Espargaro tied down for 2015, Bradley Smith's seat is the only potentially free one for next season, but that doesn't solve the factory conundrum Iannone finds himself in. He would see it as very much a sideways move.
The only other option for Iannone would be an extension with the factory, and a bike and support even closer what Crutchlow and Dovizioso and a salary to match it, with a view of moving to the factory team in 2016.