Paolo Ciabatti heaps praise on Iannone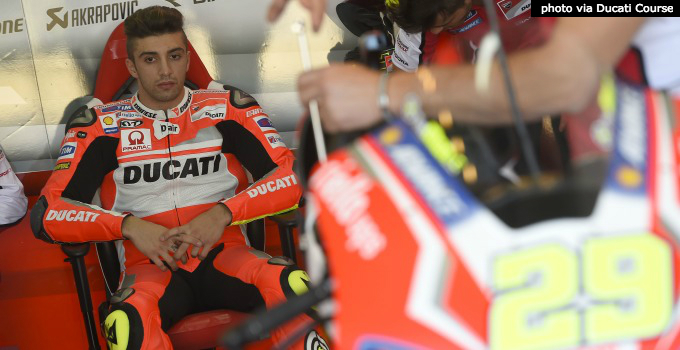 Ducati Corse sporting director Paolo Ciabatti has said that new factory recruit Andrea Iannone has immense talent, and he wasn't surprised at the success he had in 2014, despite his 2013 form.
Iannone signed for the satellite Pramac Ducati team for the 2013 season, and despite the occasional showing of impressive speed, crashes and inconsistent form marred the Italians progress, and there were even suggestions that he could loose his ride for 2014. Constantly racing through injuries and the slow progress of the Moto2 third place man from 2012, made 2014 a high pressure season for him.
After keeping his ride for 2014, Iannone repaid the extra faith from Ducati. Staying in the Pramac team, but on a factory bike, he out-performed new factory recruit Cal Crutchlow, and finished the 2014 season in tenth place, ahead of Crutchlow, and team mate Yonny Herenandez.
His tenth place finish, and five front row starts was enough to earn Iannone a seat in the full Factory Ducati side, alongside compatriot Andrea Dovizioso for 2015, with Crutchlow opting out of his contract for 2015. Something Ciabatti feels is Crazy Joe's natural progression. 
"I tried very hard a year ago, to make sure his contract was extended with an option for 2014, although his performances in 2013 were not always so positive," Ciabatti explained to speedweek.com. 
"But we must not forget: first and foremost, the bike was a problem last year, and secondly, Andrea was in his rookie season. He had falls, and then surgery. But I think Andrea has huge talent, he has moved forward in 2014. 
"Sure, he has made some mistakes this season, but who doesn't?
"Andrea has shown in 2014, what I expected, and I have given him credit for these results. I am glad that he has realised and implemented his talent."
Iannone has enjoyed a relatively successful start to his stint as a full Factory Ducati rider, finishing the in fifth position during the end of season Valencia test, half a second off of Jorge Lorenzo's fastest time. As well as just 0.1 seconds off of Andrea Dovizioso's fastest time in the Jerez test at the end of the month, and all this on the GP14.2. The new Ducati isn't due until the first Sepang test at the beginning of February.